"Friends of Development" is an e-book which contains a list of 80 active Corporate Social Responsibility (CSR) companies/foundations. 100% of the emails and phone number given in the book are verified*. One may download the book by paying a nominal amount of Rs. 399/-. 50% of the earning from this book will go towards the rehabilitation of homeless/orphan children living at Lord Buddha Home for Children, Bodhgaya.
You will get following information from the book:
State wise list of active companies/foundations
Annual CSR budget
Priority areas of work
Suggestive company's openness to accept new proposal
Email address (guaranteed no bounce mail*)
Office address and phone number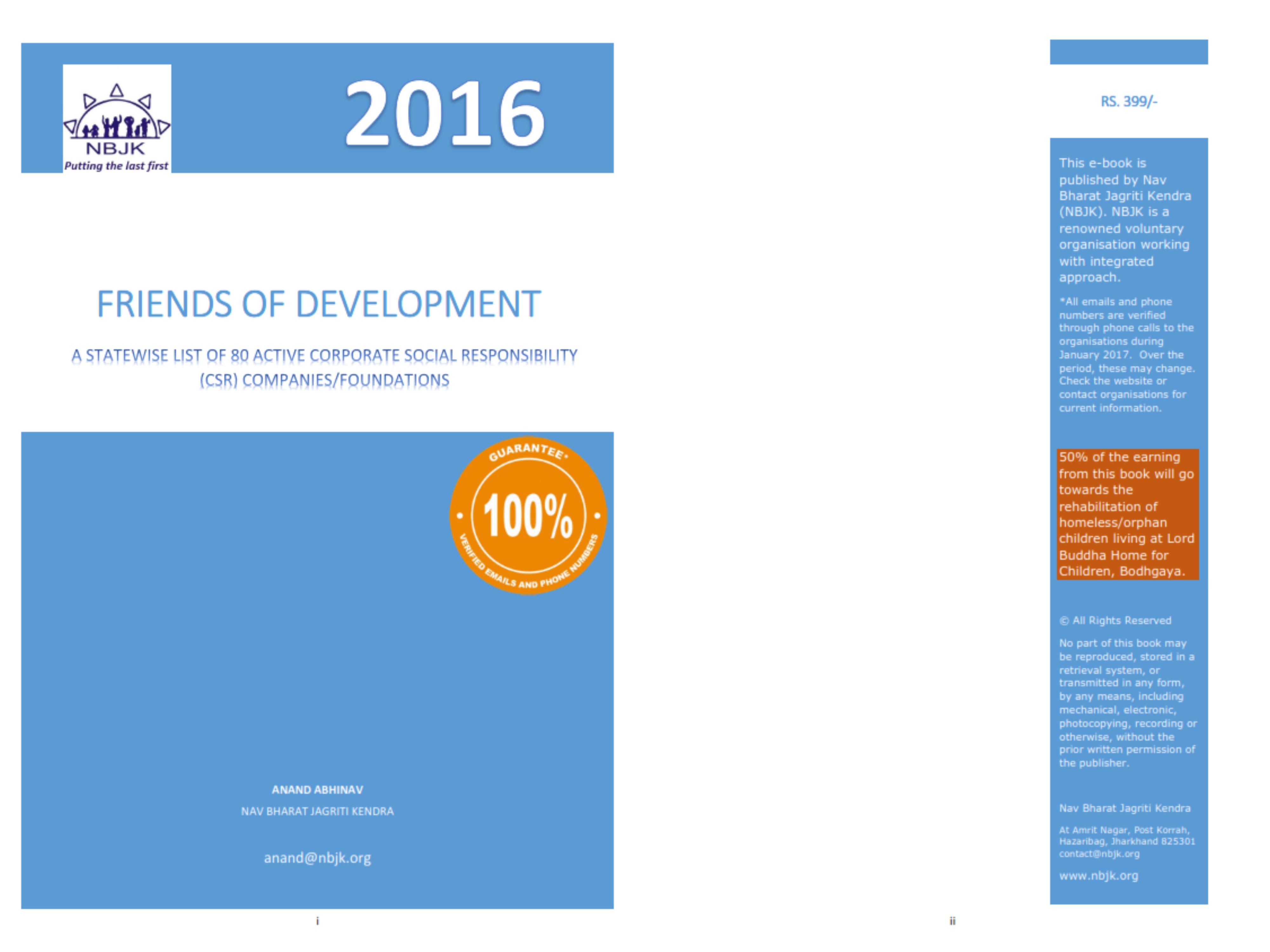 Getting enough resources for the developmental activities has always been a challenge for grassroots NGOs in India.  India has also seen a drastic decrease in the foreign funding and many of big foreign donors have withdrawn from India.
Corporate Social Responsibility (CSR) has injected new hope among developmental organisations as it is estimated that more than Rs. 10,000 crores will be available for developmental activities through CSR. CSR is still at nascent stage and there is not much information available on the internet. Also, some companies are still searching for projects to implement under CSR.
Although there is information available on the internet on list of companies, it is hard to get a list of active CSR companies/foundations that are active in a particular state of India. Most of the grassroots organisations are working in local geographies. NBJK (Nav Bharat Jagriti Kendra) is one of the most renowned voluntary organisations of Bihar and Jharkhand working on the development issues since 1971. It is active in building network of voluntary organisation in Bihar and Jharkhand and also facilitate in capacity building of small organisation. It has earlier published books related to list of funding organisations in India.
This book is an attempt to support development organisations with a resource on active CSR companies/foundations working in their state, so that, NGOs can approach them for grants. Even if a company is not listed under your state, you must make an enquiry and ask them for support, giving a genuine reason. As suggested earlier, the information given in this book is limited to the company's annual report of 2015-16, which might have changed now- for which you have to refer their website or have an enquiry.
These 80 companies listed in the book have combined CSR fund of over Rs. 4000 crores in one year.
* All emails and phone numbers are verified through phone calls to the organisations during January 2017.  Over the period contact details of the concerned person may change. Check the website or contact organisations for current information.
For giving feedback or getting assistance in developing project proposal, you may feel free to contact me on anand@nbjk.org or 9835208925 for which I shall be obliged.