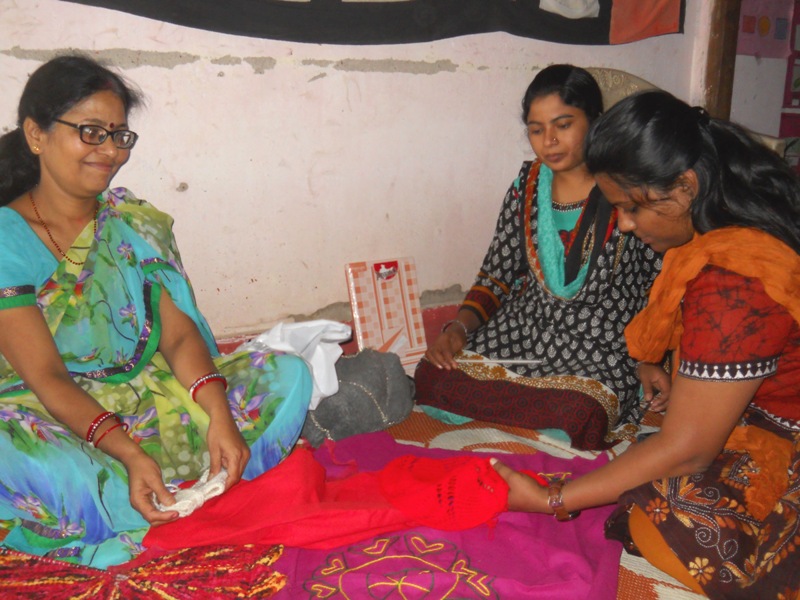 Mrs. Pushpa Devi, Husband – Mr. Krishna Prasad Kashyap, Mohalla – Okni, Post & Police Station – Hazaribag Sadar, is a 44 years old lady with hearing as well as vision problem by birth. She was married 28 years ago, now a proud mother of 2 married daughters and 2 unmarried adult sons. Her family life is full of devotion and love from her husband, who is a small businessman.
When Pushpa was identified under the program of Services to Deafblind with support of Sense India, she was provided vision treatment and spectacles. Also she was convinced to visit at NBJK run Resource Centre at Hazaribag town to get centre based services for Deafblind children/people. She learnt sign language, brushed up her functional reading/writing and became acquainted with traffic lights/rules to communicate smoothly. When it comes about Community Based Rehabilitation for Pushpa, her previous interest to tailoring and related work was considered important. She has been supported with a second hand Sewing Machine and Ms. Rashmi Parween (CBR Worker) took responsibility to provide her tips for tailoring regularly.
Pushpa Devi has learnt cloth cutting, stitching, finishing and sweater weaving etc out of this exposure and became more confident now. She has been provided financial support also to make her business stable.  Now she makes petticoat, blouse, chunri and other garments for women customers.