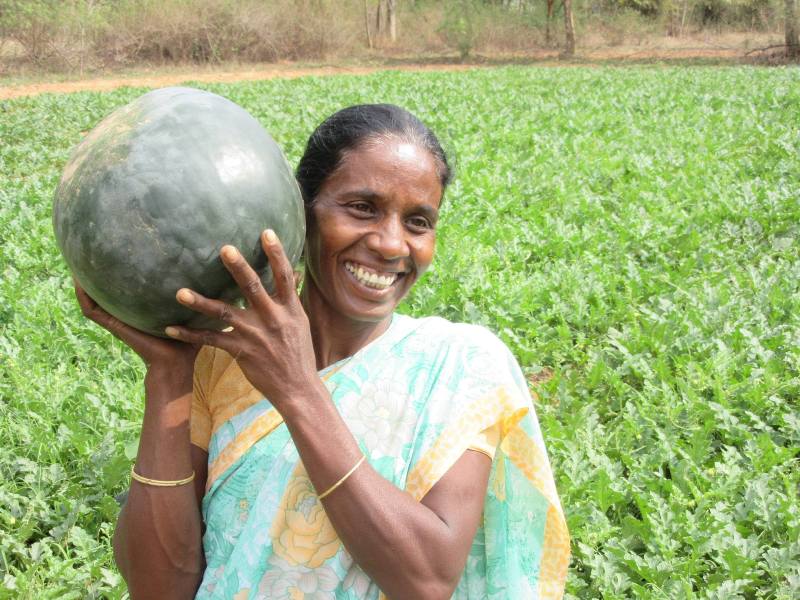 Within a year of initiating the Mission 2020: Lakhpati Kisan-Smart Village, a program with support of Tata Trusts-CInI in Murhu block of Khunti district (Jharkhand), NBJK has promoted more than 200 lakhpati farmers, who have become role models for community. One such person is 45-year-old Mrs. Dayamani Nag of Burshu village. She belongs to Munda tribe and her five-member family was dependent on three acres of land, but subsistence agriculture and poor earnings led them to resort to daily wage labor. This was until 2013, when she joined Turtan Mahila Samiti, and learned about techniques of seed and plant-spacing, scientific practices of raising nursery and paddy saplings transplantation through trainings by CInI-NBJK.
Now she uses only one kg of rice seeds instead of wasting 25 kg in 60 decimals of land. In 2015-16, she planted six kg of paddy in her two acres of land and her productivity shot up to 60 quintals, as opposed to five earlier. She was also encouraged and supported to diversify to high value crops, and became the first farmer to take up tomato cultivation for all three seasons. Supported by three wells for irrigation, she also took up cauliflower and chili for the kharif season, green pea and mustard for rabi, and watermelon for the summer. Motivated by her success story, many new households are now partaking in the program.
The Mission 2020 has been underway since April 2015, and the past 18 months have seen significant progress being made on the ground. The potential of this scheme is quite encouraging and its result draws considerable implication for public policy also.