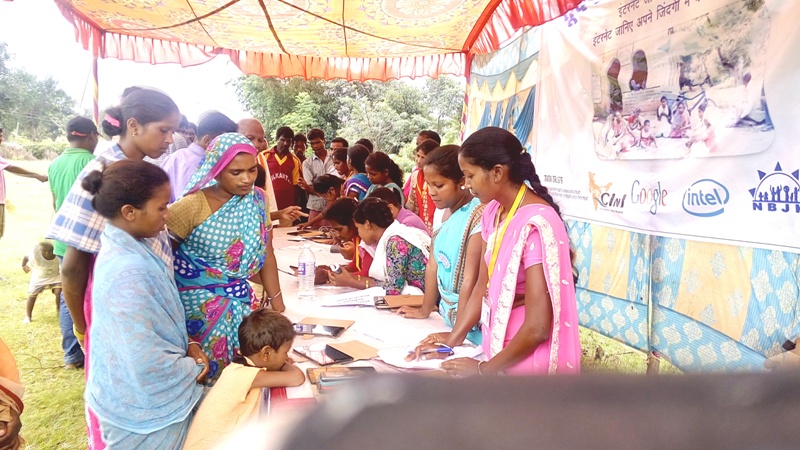 NBJK is trying to fill digital divide and enables people to access freedom of information via internet in tribal villages of Murhu block in Khunti district (Jharkhand) under the project called Internet Sathi with support of Tata Trusts & Google Inc. It has trained some selected people as Internet Sathi (Friend) and those Sathis have formed Learning Groups of youths and farmers in villages to capacitate them with specific information needed for their development.
Mahadev Roshan Munda of village-Kundibartoli, panchayat-Kunjala, is a college student at Khunti and he was interested to know about Candle Designing. Ms. Sushanti Purti, an Internet Sathi taught him Net Surfing by Google search engine with help of her project tablet and mobile phone. All these impressed Mahadev very much and he started a small scale candle making business. Now he searches more designs with help of Google search browser and making designer candles for local market. During Diwali, Mahadev Munda has earned more than Rs. 5000 happily and waiting for Christmas to sale more candles.
Another Internet Sathi Ms. Gaurmani Purti has facilitated Mr. Majhiya Purti, a farmer in village-Hethgoa, panchayat-Hethgoa, to use Kisan Suvidha, an Android App through his mobile phone. Majhiya has learnt Insect Pest Management by this application and got help to cultivate disease free tomato crop. Also he was informed about weather, agro shops, market price, Kisan Call Center and relevant tips to grow other crops methodically.
Likewise Ms. Pramila Nag belongs to the learning group in village-Bichna, panchayat-Bichna, with Mrs. Taramani Kumari, an Internet Sathi. When Pramila has passed class 10th from her village school and completed 3 days module classes to use Internet, she learnt about On-line application form filling and applied to St. Xavier College, Ranchi for admission in Intermediate course. She got admission there and now using Internet frequently for various purposes.
This Internet Sathi initiative has helped many other youths like Mr. Sundar Nag and his friends of village-Bhushu, panchayat-Digri, to know about job opportunities and results in the village itself. They are members of the Internet Sathi learning group formed by Mr. Firda Nag. Sundar and friends have completed 3 days module class and acquainted with use of Internet to know about competitive examinations and results. They purchased Smart mobile phones with internet facility and use net to update them. Now they are not needed to get support from any cyber café at Khunti. Internet Sathi project empowers people having least exposure and connect them with the world now.