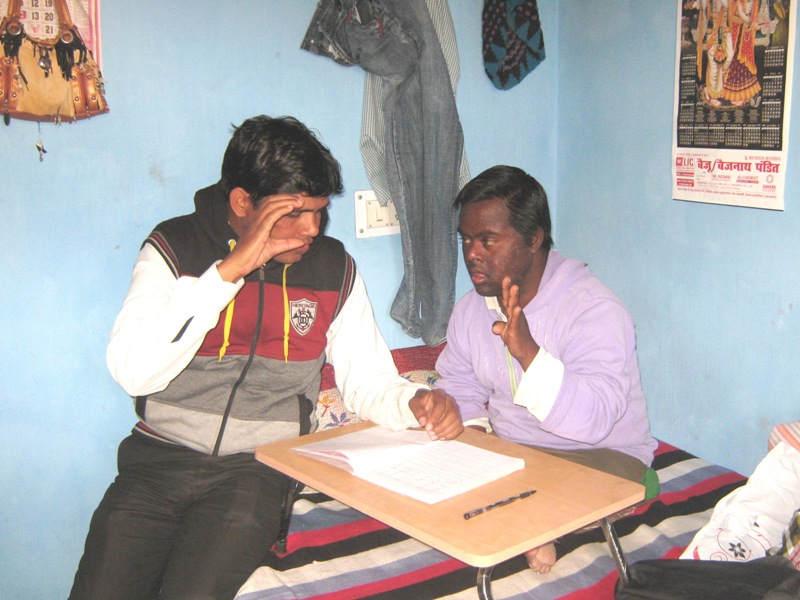 Bablu Ram (19 years) lives in Village-Babhanwai, Police Station-Mufassil, Hazaribag with his parents Mrs. Neeru Devi and Mr. Subodh Ram. The parents are small farmers and they run a Chaumin shop at Mukundganj chowk near their village. Bablu is suffering from profound hearing loss, Down's syndrome, mental retardation, multi-sensory impairment, and hypertension with side vision problem also. He was identified amid the survey of beneficiaries by NBJK under Sense India Supported program on Services to Deafblind Children.
He was a different youngster with immense love for music & dance, unpredictable behavior, wandering nature and became an entertaining item for some insensible people. So the parents have preferred to keep Bablu inside the home and he was leading a captive life literally before. NBJK has intervened in his case successfully and he was provided home based services by the program team after building a trustworthy relation with the parents. Bablu went under functional/clinical assessment, got hearing aid, spectacle and a special teacher has provided him training upon ADL (Activities of Daily Living), communication, socialization etc. He learnt functional reading & writing, coloring pictures, counting of currency/coins and became interested to do household works also. All these have resulted as a positive change for this young chap. His liking and attitude have been changed. He became more hygienic as well as responsive towards the activities around him. His interest in listening music and cooking at the same time has led him to family owned Chaumin shop.
He lives there and supports his parents in chopping vegetables, making dishes and serving customers. He enjoys all these with his music flowing earphone. To show their love to Bablu, the parents have renamed the shop as Ayush Chaumin Centre. NBJK team comprised by Mr. Narsingh Ram, Mr. Basant, Mr. Paras Nath Mahto, Mrs. Mary, Mrs. Indu and Ms Rashmi has labored hard to mainstream Bablu gradually. He was supported with Rs. 15000 to revamp his Chaumin shop. Bablu is happy at the shop and contributing to his family business.