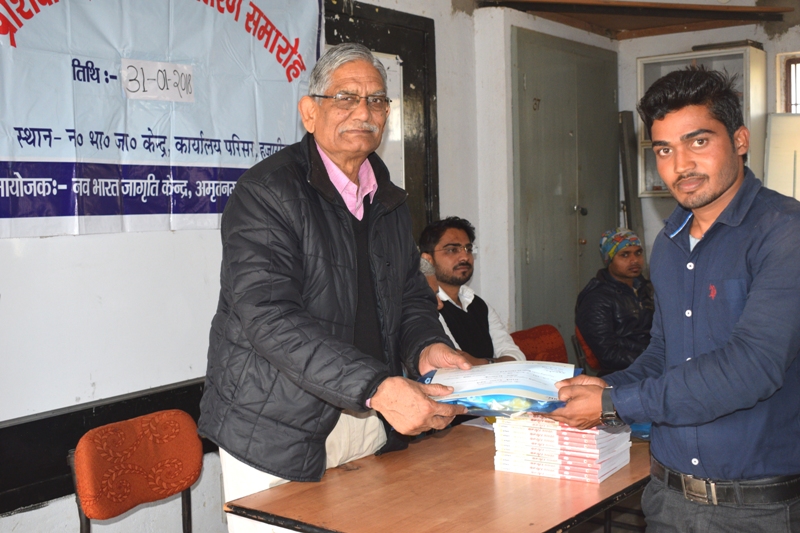 31 January 2018, Hazaribag: 50 youth trainees of 8th batch from Skill for Life project have completed their two months residential training in the trades of Basic Computer Applications (BCA), General Duty Assistant (GDA) and Mobile Phone Repair. The project is being supported by Swades Foundation & HSBC, Mumbai.
On this occasion, Mr. Satish Girija (Secretary, NBJK) has distributed course completion certificates and toolkit/resource material among the trainees. In his brief address, Mr. Satish Girija has touched many relevant issues like workplace solution and security for the trainees, particularly girls to be placed as GDA in nursing homes or hospitals. He requested the youths to stay in touch with NBJK for at least next 6 months for tracking purpose also. These short-term courses are designed to get entry level jobs only and one needs to enhance his or her ability despite placement, he said. Mr. Prabhu Nath Sharma (Treasurer-NBJK & Programme Coordinator) has conveyed best wishes for all pass-out youths and suggested them to follow good behaviour with patience at their work place. We must flourish our relationship and please keep us informed about your career development and we will be happy to support you always, he assured the youths.
There were 50 trainees (BCA-13, GDA-30, Mobile Repair-07) who received certificates and 37 have got placement opportunities on the day. Mr. Kirti Rawat (Placement Officer) has informed that total 418 youths have been trained under Skill for Life with 70% placement ratio. He said that most of the youths belong to Mobile Repair trade are self-employed and generating employment for others while BCA skilled youths work as data operators at various Government departments, NGOs and corporate enterprises, likewise GDA course has enabled village girls to work with nursing homes & hospitals. Our trainees are working successfully at Hazaribag, Ramgarh, Ranchi, Jamshedpur, Durgapur, Gaya, Koderma and other places, he added.