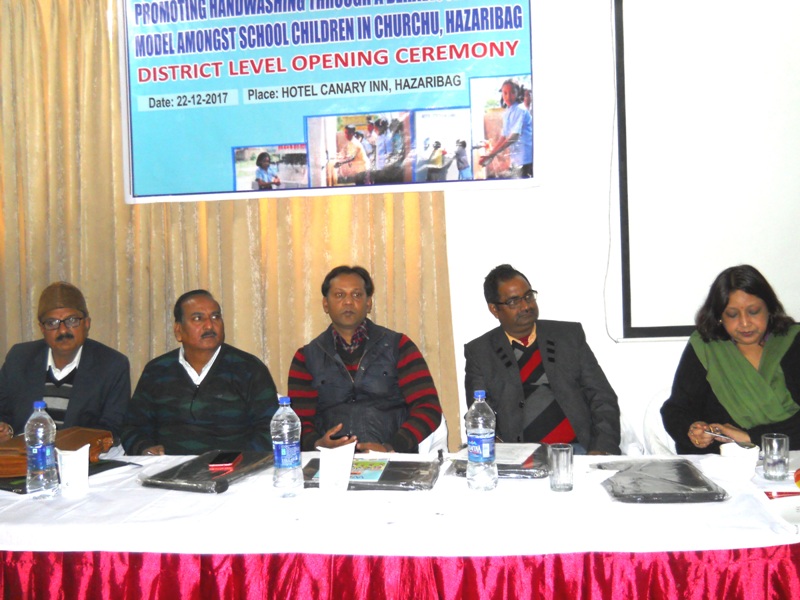 22 December 2017, Hazaribag: A district level workshop on sanitation through behaviour change model with school children in Churchu block was convened at Hotel Canary Inn under the joint auspices of Plan India, Lifebuoy and NBJK. An apparent and small message backed by teacher, mother, family and community can be helpful to change the very behaviour of handwashing with soap as a habit among school children, Mrs. Meeta Jaruhar (Regional Manager, Plan India) has pointed out here. She insisted for motivating children with steps like awareness, commitment, experiment, reward orderly and displayed "Paanch ki Pathshala" the resource material developed by Plan India to promote Handwashing practice among children. Mrs. Jaruhar said that handwashing with soap before going to lavatory, breakfast/lunch/dinner and at the time of taking bath can ensure sound health of our children.
Mr. Rakesh Kumar (Dy. Superintendent of Education) has supported the very idea of behaviour change for a healthy childhood and Mr. Uday Kumar Singh (Additional Dist. Program Officer, Jharkhand Education Project) has assured for a combined campaign for the same. Mr. Sanjay Tiwary (Media In-Charge, JEP) has called the school children as real ambassadors for sanitation campaign and shared about relevant activities by JEP over the issue. Mr. Narendra Kumar (Asst. Engineer, JEP) has informed that currently 675 schools have running water facility in Hazaribag district and we are trying to develop this in other schools also. In many schools, teachers & students are aware about the benefits of handwashing with soap but the schools lack proper infrastructure to support the practice, Mr. Vijay Ram (Block Education Officer, Churchu) has added.
Mr. Ranjan Kumar (NBJK, Churchu) has focused upon the roles of principals, teachers, SMC members and Baal sansad. During the workshop, NBJK staffs have demonstrated the defined process of handwashing with soap. About 20 Block Education Officers, Program Officers, Resource Persons, Members/Presidents of School Management Committees have participated in the workshop. Its worth mentioning that NBJK-Plan has launched handwashing campaign in 39 schools of Churchu block under Child Centered Community Development Program. The workshop was anchored by Mr. Alok toppo and arranged by Mrs. Shashika Kachchap, Mr. Anshumaan Kumar, Mr. Pradeep Bharti and Mr. Rajkumar from NBJK, Churchu.