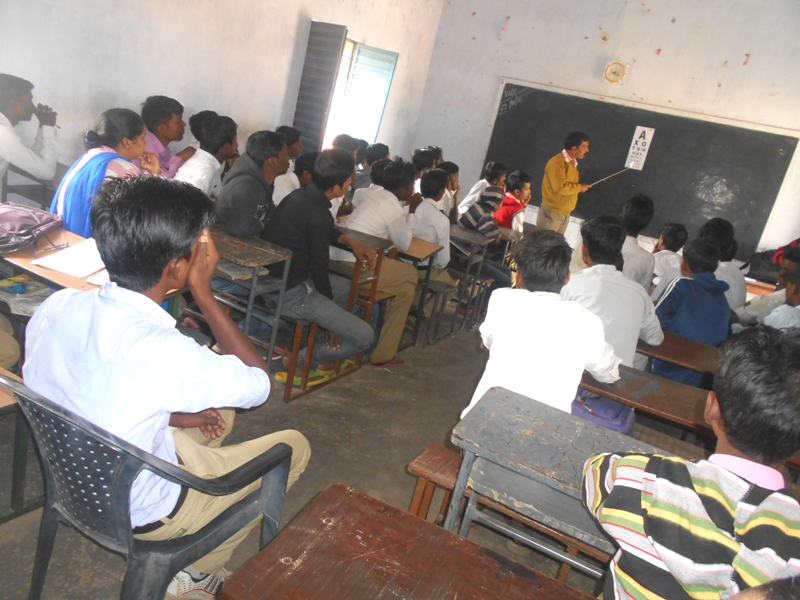 29 November 2016, Katkamsaandi (Hazaribag): NBJK has launched a vision test campaign at schools in far flung villages  of Hazaribag district under Disability Rights program with support of AVI-BLF, UK. A vision test camp was organized for 118 students at Saraswati High School of Daroo village of Daroo block and 34 were detected with low vision symptom.
Before this, such camps were held at Birsa Saraswati High School, Daand (Katkamsaandi) on 25th, at Primary School, Nagri (Churchu) on 24th, at Project Girls' High School, Charhi (Churchu) on 23rd and at Banadag High School, Banadag (Katkamsaandi) on 17th of the month. This vision checkup campaign has benefitted 728 school children, 90 have found with low vision problem and referred to LNJP Eye Hospital or its satellite center at Hazaribag for treatment.
At Saraswati High School, Daroo, NBJK program team has organized a quiz competition upon the issue of Disability among 103 students of class X. They were asked related questions and the very objective of community sensitization was fulfilled with the event. Total 103 students have participated in the quiz and Priti Bharti, Vipin Kumar, Rahul Kumar, Amit Kumar and Ranjana Kumari were declared as winners with position first to fifth respectively. The school teachers have appreciated the move as community sensitization towards disability.