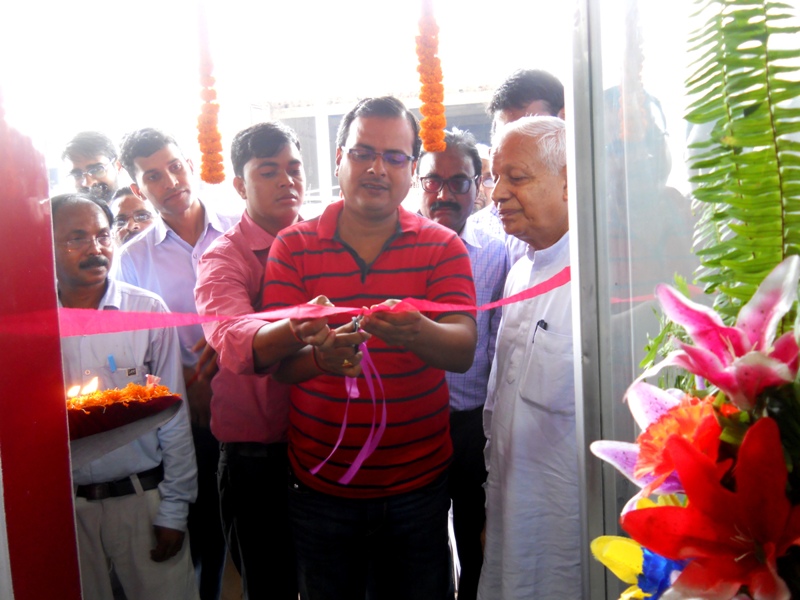 07 September 2017, Bogodar: Lok Nayak Jay Prakash Eye Hospital, Bahera (Chouparan, Hazaribag) has started a Vision / Eye Checkup Center at Bagodar, an important township of Giridih district situated at its border adjacent to Hazaribag district in Jharkhand. Bagodar is the block with a population of 2,36,482 in 138 villages of 46 village panchayats under Giridih district but lack any eye care facility. Since many people from this area come at LNJP Eye Hospital, Chouparan (about 70 km) for eye treatment, it was decided to open a Vision Center at Bagodar to cater people in need of eye care services.
Dr. Kuntal Kumar (In-charge Medical Officer, Community Health Center-Bagodar) has inaugurated the Vision Center by LNJP Eye Hospital here and described this as a boon for local people suffering from various eye problems. Its significant that the Vision Center will provide a complete, computerized eye checkup at a nominal charge of Rs. 50 only and people can avail power glasses of new designs at economy prices.
Mr. Pankaj Kumar (Ophthalmic Assistant) will be available at this Vision Center and severe eye patients of Glaucoma, Retina, Cataract etc. will be reffered to base hospital, Mr. Tripan Das (Administrator, LNJPEH) has informed during the press conference held on this occasion. This is worth mentioning that 100 beded LNJP Eye Hospital is an ISO 9001-2015 rated modern eye hospital which cared for about 3 lac OPD patients and performed more than 70 thousand cataract surgeries since it started in the year 2005.
The inaugural program of Bagodar Vision Center was graced by Mr. Girija Satish (President, NBJK) who talked to eye patients and took a stock of the facilities available here. He was accompanied by Mr. Gandharv Gaurav, Mr. Anand Abhinav (Program Directors), Mr. Tripan Das (Administrator, LNJPEH), Mr. Karunanidhi (In-charge, Vision Centers-LNPEH), Mr. Pankaj Kumar (Ophthalmic Assistant) and other staffs of the eye hospital.
This is the fifth Vision Center in a row by LNJP Eye Hospital. There are such centers at Hazaribag, Chatra, Sherghati (Gaya), Godda already and proved quite helpful for common people with eye problem.