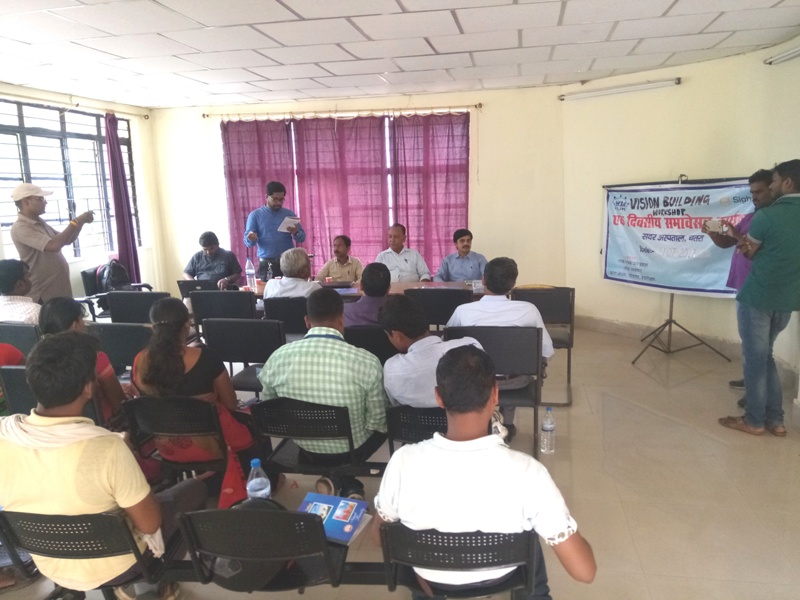 21 July 2017, Chatra: Under the projects of Jharkhand Rural Eye Health & Netra Vasant by Sightsavers , Kolkata, a Vision Building workshop took place at administrative block of Sadar Hospital, Chatra. This was organized by LokNayak JayPrakash Eye Hospital (LNJPEH) and District Blindness Control Committee jointly.
Dr. S. N. Singh (Civil Surgeon, Chatra) has presided over the workshop while Dr. Jitendra Kumar (State Program Officer, Sightsavers) was the chief guest on this occasion. He stressed over uploading of district cataract surgery data on NPCB-MIS. After a full length discussion about eye care problem in Chatra district, it was suggested that village level health workers like Sahiya Didis must be involved in identification drive for eye patients and they should be provided some basic training for such purpose. Eye Screening Camps in remote villages by LNJPEH are helpful to poor people and we will arrange for their transportation and surgery free of cost at the base hospital if found with cataract, Mr. Karunanidhi (District Program Manager, JREH) has said during the workshop.
Also other officials from LNJPEH like Mr. Tripan Das (Manager), Mr. Nitesh Thapaliyal (Assistant Manager) and Mr. Vinod Kumar Swarnkar (Camp Manager) have supported the view and assured for teamwork with District Blindness Control Committee. DBCC, Chatra was represented by Mr. Tarun Kumar (DPM), Mr. Ranjit Kumar Singh (DPC) and Mrs. Anita Kumari (BTT) in the workshop. Mrs. Fulwati Devi, Mr. Santosh Kumar, Mr. Ganesh Yadav, Mr. Kauleshwar Yadav, Mr. Dinesh and Mr. Abodh Pandey were other prominent people present in the workshop.