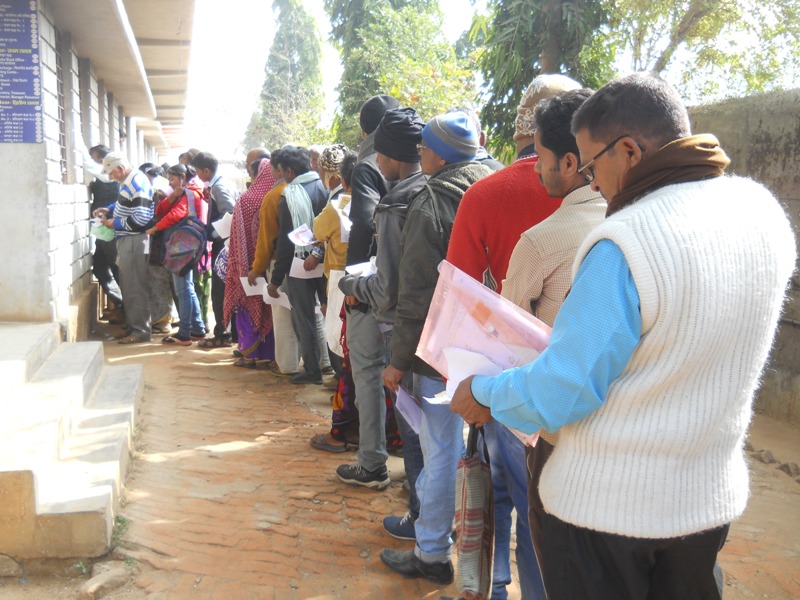 27 December, Amrit Nagar: 996 people suffering from Mental Retardation, Mental Illness and Epilepsy had a chance to get proper medical treatment and medicines in the health camp organized by NBJK with support of RINPAS, Kanke (Ranchi).
There were 54 new patients also who couldn't contact any psychiatrist earlier for their treatment. All these patients have come from Hazaribag, Koderma, Chatra, Giridih, Dhanbad, Bokaro districts and belong to far-flung villages where superstition and faith healing still prevail commonly. The medical team of RINPAS (Ranchi Institute of Neuro Psychiatry & Allied Sciences) has arrived at NBJK premises in the morning and devoted a full day for such patients.
NBJK workers like Mr. Narsingh Prasad, Mr. Purn Prakash Rana, Mr. Om Prakash Gupta, Mr. Sujit Mishra, Mr. Kamal Pandey, Mrs. Neelam Sharma, Mrs. Pratima Devi, Ms. Shah Jehan, Mrs. Mary Hansda, Mr. Shailesh Kumar, and Mr. Sudip Kumar have organized the people systematically due to crowd and helped them to get treated. Also they received medicines from the counter without any cost and most of the carers have expressed their satisfaction over the treatment by RINPAS.