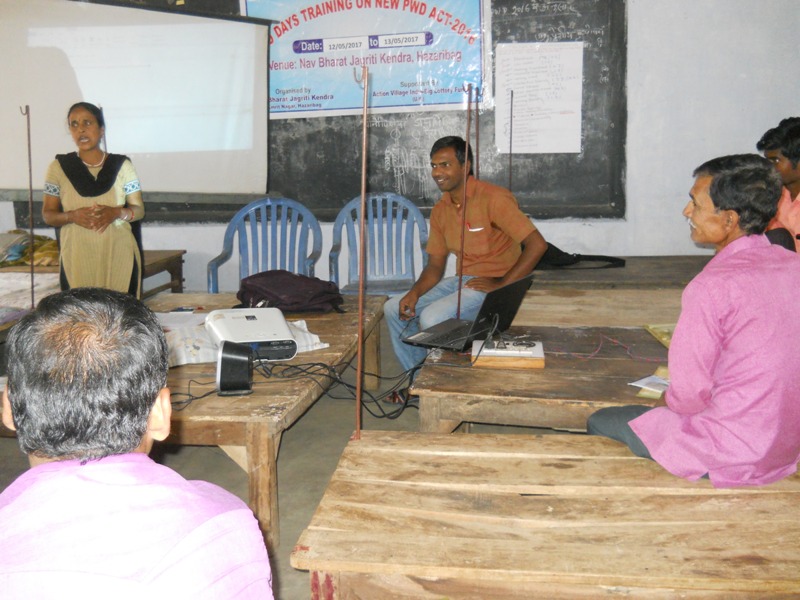 10 May 2017, Amrit Nagar: Disabled People's Orgaizations (DPOs) from Hazaribag, Koderma, Giridih, Nawada and Gaya districts got an orientation training on The Rights of Persons with disabilities 2016. This was organized under Disability Rights Program with support of AVI-BLF, UK.
On 10-11 May, 30 participants from Hazaribag, Koderma and Giridih based DPOs have attended the training moderated by Mrs. Sujata Prasad (Program Manager). She has briefed about 21 types of disabilities and informed about 3% to 4% reservation in government jobs for person with disabilities as well as regarding right to education for all children with disabilities under 6-18 years age group. Mrs. Sujata has updated the trainees with some provisions of the Act like formation of district level committees and Special Courts by the government to address local concerns and violation of rights of PwDs. She referred to broad based Central & State Advisory Boards on Disability as policy making bodies, offices of Chief/State Commissioners and penalty of 6 months to 5 years with fine if anyone insults a PwD. The Act says that any person who "intentionally insults or intimidates with intent to humiliate a person with a disability in any place within public view" is punishable with imprisonment of such period, she reiterated and appealed the DPOs to exercise their rights enshrined under the law.
20 members from DPOs of Gaya and Nawada districts are scheduled for the same training on 12-13 May. The trainees have been given concerned resource materials and availed the opporunity to watch motivational video clips also.