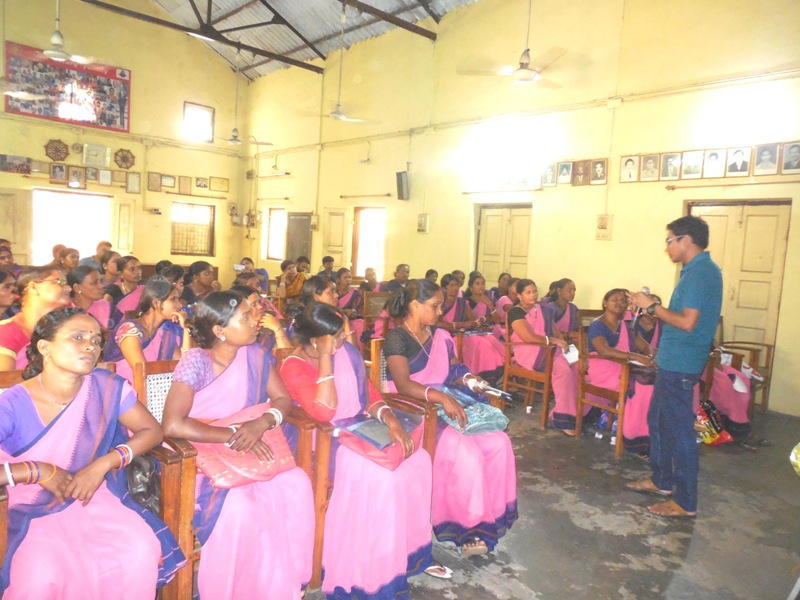 14 October 2017, Ramgarh: District level training program to Aanganwadi Sevikas was organized by NBJK under the program of Services to Deafblind Children with support of Sense India, Ahmedabad. The training held at Rotary Club, Ramgarh and Mr. Rashmi Kant Mishra (Training Officer, Sense India) has oriented the Sevikas about the phenomenon of Deafblindness, its causes, symptoms and preventive measures in detail.
Before this, Mrs. Sushmita Bhattacharya (Program Manager, NBJK) has welcomed all the participants and said that we want to reach all such deafblind children still deprived of any facility or support. She requested Aanganwadi Sevikas to identify such children and to work as a link person for them. There were some experimental demonstrations among the trainees to make them feel like any deafblind child and to develop a sense of empathy for the target group.
There were more than 60 Aanganwadi Sevikas including Mrs. Madhuri Devi, Veena Kumari, Shweta Devi, Anjani Devi, Indrani, Savitri, Sheela, Nazma Khatoon, Lalita Devi, Abha Devi, Renu Yadav, Draupdi, Tajo Devi, Usha Devi and others participated in the training. Also Mr. Mukesh Kumar, Kapildev Kumar, Rajesh Kumar, Sujata Singh and Sunita Devi from Ramgarh Program team have enriched the training.
Mr. Abhay Kumar (District Program Coordinator, Ramgarh) has thanked all the participants, trainer and program team members for their valuable roles in the training.