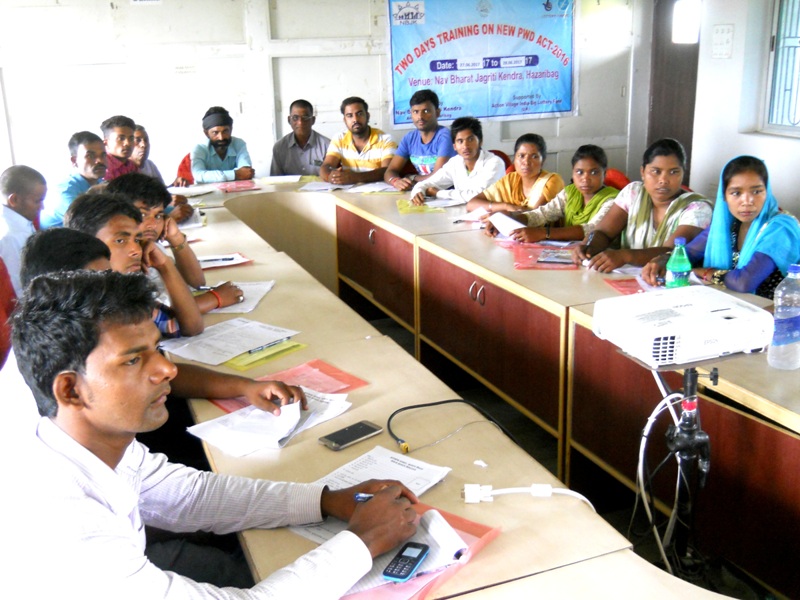 27-28 June 2017, Hazaribag: Two days training on Rights of Persons with Disabilities Act 2016 was held for voluntary organizations working in different districts of Jharkhand. This was organized under the program of Disability Rights with support of Action Village India & Big Lottery Fund, United Kingdom.
Mrs Sujata Prasad (Program Manager) has introduced the theme and explained about the expanded domain of this new law that includes 21 types of disabilities. She has briefed about all such types and said that some of their sufferers can avail 4% reservation now. All the children with disabilities have right to get school education free of cost and the law instructs the government to set up district level committees to resolve local problems of PwDs as well as advisory boards will work at state and central levels like policy making bodies for their affairs, she informed the participants. Mrs. Sujata has discussed about roles & responsibilities of the Chief Disability Commissioner, Assistant Commissioners and State Disability Commissioner, about state government's welfare schemes for PwDs and appealed to get rid of disability related myths prevailing in people's mind.
Mrs. Neelam Sharma (Field Staff) has shared about the procedures, officials/offices and necessary documents to get disability certificate, pension and other entitlements meant for them. Local organizations/self-help groups of PwDs & their carers proved helpful to get action for cases in bulk, she mentioned while talking about realization of disability rights. There were 28 representatives in the training from 15 VOs from Hazaribag, Koderma, Dumka, Ramgarh, Gaya, Bokaro, Saraikela, Ranchi and Giridih districts.