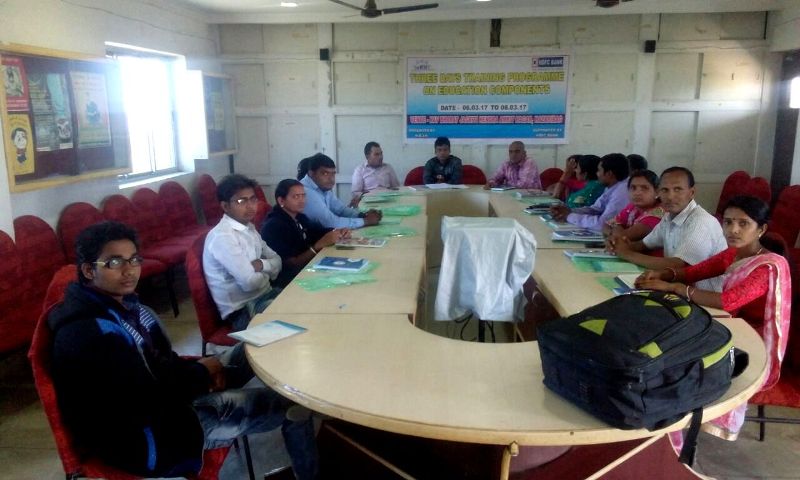 06-08 March 2017, Hazaribag:  The programme team of HRDP (Holistic Rural Development Programme), Koderma has attended 3 days residential training at NBJK Coordination office, Hazaribag. HRDP is being run with 2656 HHs in 15 villages of Koderma Sadar and Jainagar blocks of Koderma district under support by CSR initiative of HDFC Bank. The trainees were comprised of Mr. Arvind Singh (Programme Coordinator), Mr. Rahul Saw (Assistant Programme Coordinator), Mr. Raunak Rituraj (MIS In-charge) and 15 Community Mobilizers.
They all have got two days class room training on the topics like Child Rights, Right to Education, School Management Committee, Bal Sansad, Disability & CBR, Rights of PwDs, Mother & Child Health, ANC, PNC etc. and the very third day was scheduled for field visit. The topics were covered by eligible resource persons like Mr. Sanjay Prasad (District Child Protection Officer, Hazaribag), Mr. Amar Kant Sinha (Govt. Health Deptt., Churchu), Mr. Sanjay Tiwary (Jharkhand Education Project) and Mr. Paras Nath Mahto (Special Teacher, NBJK). They dealt with the subject matter authentically due to their specialization and work experience.
On last day of the training, there was an exposure visit to Churchu block, where trainees have visited two schools namely Nav Prathmik Viadyalay of Nagree village and Middle School at Churchu. These schools were important for understanding of SMC, Bal Sansad and implementation of RTE at village level. The trainees have observed wall painting, sanitation, cleanliness, drinking water facility and Mid-day meal at these school. Also they met student members of Bal Sansad and came to know about their roles & reponsibilities.
Mr. Rajiv Singh (Senior Programme Manager, NBJK) has extended support for coordination of the training programme.