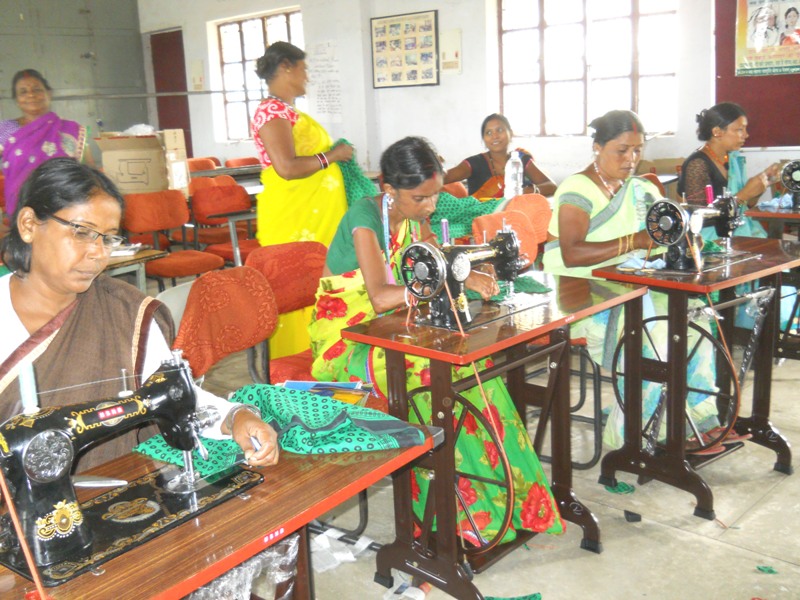 11-17 September 2017, Hazaribag: Four deprived women Mrs. Meena Devi, Mrs. Vidya Devi, Mrs. Tilkeshwri Devi and Mrs. Manju Devi from villages Lupung, Pelawal, Gadokhar and Katkamsaandi repectively in Katkamsaandi block have got brand-new sewing machines and a weeklong residential training with support of Usha International Ltd., Delhi. There was online donation to NBJK for such purpose. Also a unit of 10 needy women from Giridih district has got tailoring training and new machines under Usha Silai School Program (Phase-VI).
All these 14 women have got service kits with their sewing machines. Mrs. Savita Thakur (Master Trainer) and Mr. Ritesh Lohani (Program Coordinator) from Usha International Limited have guided the trainees upon sewing skill, machine & maintenance. They encouraged the women to run Usha Silai School and provided tips for time management and business insight also.
Mr. Prabhu Nath Sharma (Treasurer-NBJK & Program Coordinator) has informed that beneficiary women for another unit from Dhanbad have been selected already and soon we will organize training for them. It is worth mentioning that 512 needy women earn Rs. 3000-7000 per month by running Usha Silai Schools and Satellite Sewing Centers in 39 districts of Jharkhand & Bihar with support of Usha International Ltd.