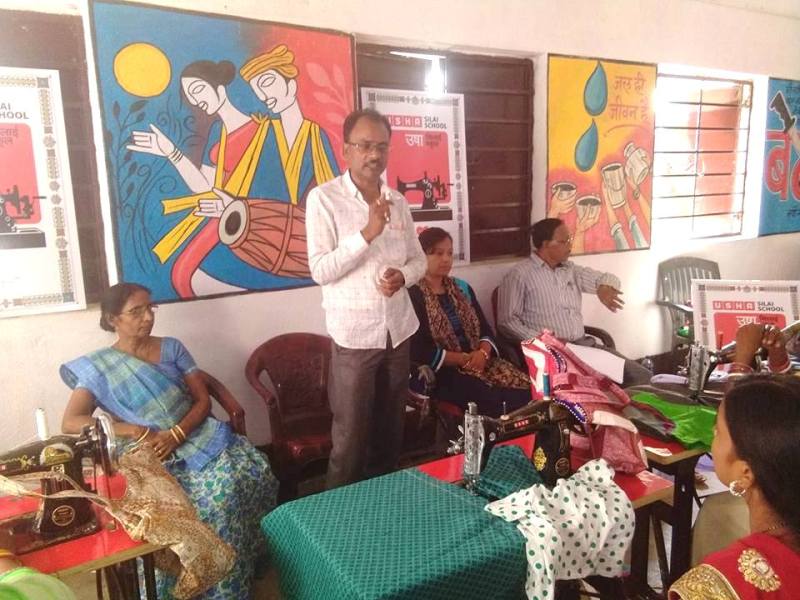 10-16 October, Mahuda (Dhanbad): 7 days tailoring training and new sewing machines have been provided to 10 rural women beneficiaries selected by Jharkhand Gramin Vikas Trust, village-Kacharra, Mahuda (Dhanbad), a partner organization under Usha Silai School Program by NBJK with support of Usha International Limited, Delhi.
The training was conducted by Mrs. Sangita Jaiswal (Master Trainer) and Mr. Ritesh Lohani (Program Manager) from Usha International Ltd. The trainees have learnt new skills and sewing machine maintainance during the training held at Panchayat Sachivalay, Kandra (Mahuda More). The women who got such support were Mrs. Ranju Devi (Bhurangiya), Lakshmi Devi (Patthargadhiya), Champa Devi (Kanchanpur), Bhuvaneshwari Devi (Lututaand), Sushma Devi (Paarjoriya), Priyanka Devi (Kandra), Chameli devi (Kalyanpur), Shamima Parveen (Kacharra), Sitara Khatun (Kumardih), Laljan Khatoon (Naagda). All these belong to week socio-economic background and determined to raise income by opening of Usha Silai Schools in their respective localities.
In the concluding ceremony, Mr. Shankar Rana (Representative, NBJK) has applauded Usha International for such initiative to women empowerment and extended his best wishes to all. The program was graced by Mr. Chakradhari Mahto (Mukhiya), Mr. Parmeshwar Rawani and other dignitaries also.