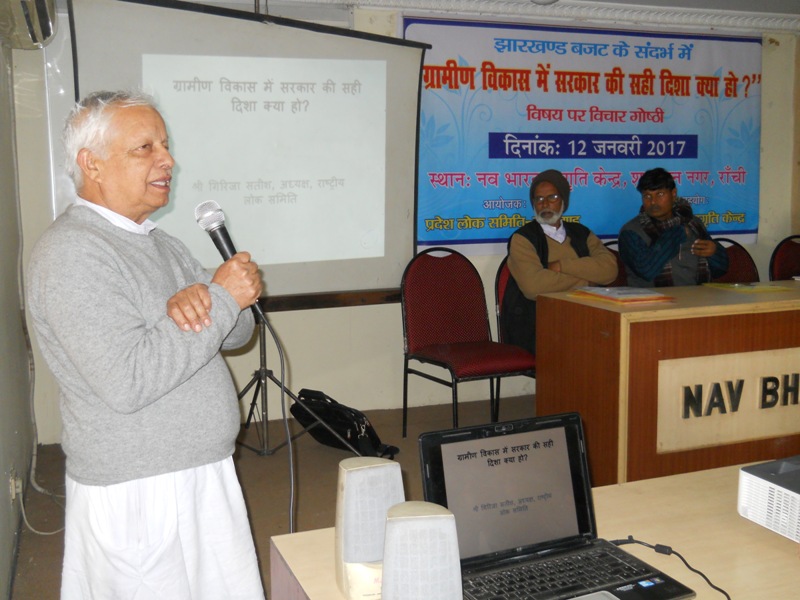 12 January, Ranchi: A symposium around the Right Approach of Jharkhand Govt. on Rural Development in context of state budget was organized under auspices of Jharkhand Pradesh Lok Samiti. The program was held at NBJK and chaired by Mr. Chandan Mishra (Bureau Chief, Dainik Hindustan) who called the budget as a continuous process and suggested to draw it from Panchayat, block and district levels for a final comprehensive view.
Mr. Girija Satish, a Gandhian signature and National President of Lok Samiti, has delivered keynote address. He analyzed governmental efforts on agriculture, education and health for villages. Most of the dobhas (small water harvesting structures), ponds and check dams constructed by the government are useless due to their faulty design and wrong location while personal well, pond or checkdam works well, he said and stressed for minimum depth of 15 feet for such structures so that farmers can get Rabi crop also. Girija Satish advocated for change in MNREGA rules, use of JCB & other machines for construction work and easy support to personal irrigation schemes. On education, he expressed deep concern over poor quality of government schools and said about tough conditions for govt. affiliation of private schools despite their growing numbers and good performance in rural areas. The criteria like 2 acres land at a place, B.Ed teachers and building for classroom, lab, library, teachers' room etc. should be relaxed with ½ acre land, experienced teachers and a time limit of 10 years for buildings, he suggested. Girija Satish has opposed compulsory membership of local MLA & govt. officials in the managing committee of private schools and called for govt. sponsored fees, scholarship and other benefits for poor children of such schools. Also he urged to outsource some govt. schools as an experiment and to convert privileged schools like Central/Navodaya/Kasturba/Indira Gandhi/Netarhaat into normal schools. Lok Samiti president has pointed about deterioration in govt. health service from state to block level gradually and 75-80% of service from private sector. He advised for training and regulation of Rural Medical Practitioners or RMPs serving to 90% rural population. Girija Satish advocated to outsource block level health centers and to promote private health centers as the place to get govt. benefits like motherhood allowance, health insurance & other schemes. Also he proposed to expand govt. insurance coverage for APL people and about creating a fund at block level for referral support to critical patients.
Mr. Shriniwas (Senior Journalist, Prabhat Khabar) has suggested the government to bear responsibility of a system to support food security, health and education for common people while Mr. Madhukar (Senior Journalist, Prabhat  Khabar) was to revive Govt. system that surrenders a large amount from Plan Expenditure every year. The symposium was addressed by activists and villagers like Mr. Ganesh Sahu, Munshi Sahu, Mr. Badri Prasad Verma, Mr. Santosh Jayaswal and others. Initially Mr. Shivji Singh (General Secretary, Bihar LS) has introduced the theme before audience and Mr. Kaushal Ganesh Azad (National Coordinator, LS) has anchored rest of the program. There were 60 participants from Ranchi, Hazaribag, Koderma, Giridih, Chatra, Lohardaga, Ramgarh, Gumla districts.