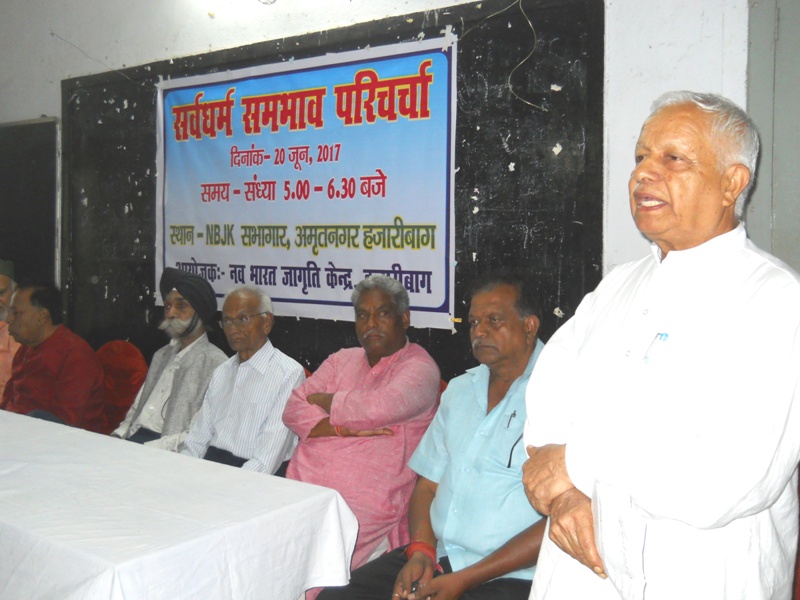 20 June 2017, Hazaribag: A symposium on Respect for All Religions followed by Dawat-e-Iftar (Evening Dine for Rozedars during sacred month of Ramadan) was organized under joint auspices of NBJK and Hazaribag District Lok Samiti. The very theme of this symposium was introduced by Mr. Girija Satish (President, NBJK) who has placed main characteristics of Sanatan/Hindu, Islam, Chirstianity, Sikh and Jain sects. He said that all the faiths support Oneness of the God, compassion, mercy, non-violence, purified heart, respect to women and reject superstition, liquor, gambling, bad companion to establish a humane society. Any hatred in the name of religions should be refused as Indian constitution treats all the faiths equally and makes us responsible, NBJK president has reminded.
Mr. Lalan Prasad has charged colonial mindset for communalism in India and appealed to correct this for national unity. Sardar Jaswant Singh has praised the very month of Ramadan for cleanliness of soul & body. We don't fight for religions rather we want supremacy, fulfill our vested interst while any religious faith is meant to uplift humanity only. Mr. swarup Chand Jain elaborated the idea of Live & Let Live as the real message of all religions.
Also Messrs Arjun Yadav, Bateshwar Mehta, Shamsher Alam, Abdul Mazid Ansari, Ghulam Zilani, Santosh Pandey have expressed their views in the symposium. Mr. Shankar Rana (Coordinator, Jharkhand State Lok Samiti) has conducted the dais and thanked all for their presence. Soon after Dawat-e-Iftar was participated by around 200 people including women and children. A similar event was organized at GP Sah Sadan, Dumka also on 21 June and many important members of Chamber of Commerce, Bar Association, bureaucracy, local community were present in the symposium-Iftar headed by Mr. Girija Satish.