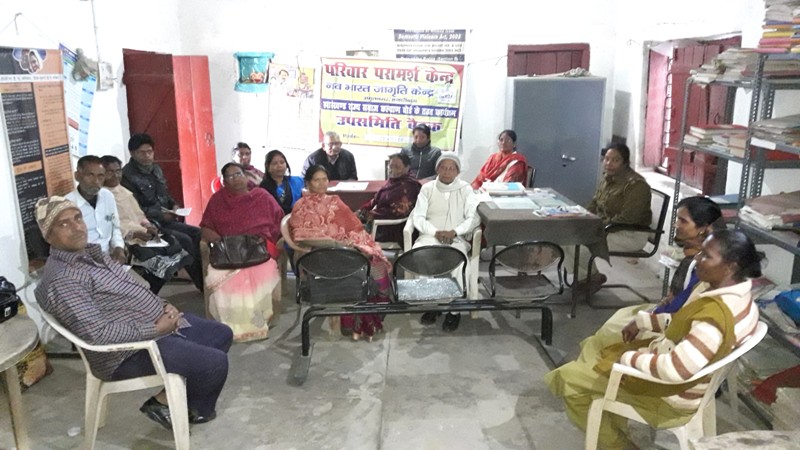 31 January 2018, Hazaribag: Family Counselling Centre has invited it's Sub-Committee members in the quarterly meeting held in the premises of Women's Police Station, Hazaribag. The meeting was presided by Mrs. Swarnlata Kujur (Police Inspectress) and Mrs. Meera Gupta (Counsellor, FCC) has placed the action report followed after last meeting and shared a compliance of the suggestions by honourable members.
Mrs. Gupta has pointed out that women SHGs are being consulted in the enquiry process for any case, we ensure support from PRI members & prominent people for reconciliation process and in the cases of love affair, consent of parents/guardians of both the parties have become manadatory for any action now. Within the period of November'17 to January'18, there are 34 cases registered at FCC, she reported and explained about their nature as Wife-Husband Dispute (14), Alcoholism & Violence (09), Couples' Dispute with Old-Aged In-Laws (06), Second Marriage by Husband (02), Land Dispute (01), Neighbourhood Dispute (01) along with the Dispute with Father & Brothers (01). We could be able to settle 13 cases out of these and remaining 21 cases are in the process of resolution, Mrs. Meera Gupta has briefed before the Sub-Committee members.
During the meeting, Mr. Satish Girija (Secretary, NBJK) has suggested for villagers' team based enquiry to any case and Ms Veena Sethi (Advocate) has advised for awareness meeting with school/college students to deal with premature love affairs. District police representative Mrs. Swarnlata Kujur has assured that the police will support in investigation or reconciliation of the cases and expect for better coordination with FCC.
It was decided unanimously that next meeting will take place in the campus of Women's Police Station, Hazaribag. The other members/representatives present in the meeting were Mrs. Emeltina Ekka (In-Charge, Women Police Station), Mrs. Neela Pushpa Tigga (ASI), Mrs. Sushila (ASI), Mr. Tulsi Dubey (Advocate), Mr. Arvind Jha (Advocate), Sister Anny Thomas (Holy Cross SSC), Mrs. Usha Devi (Anupam Mahila Chetna Samiti), Mr. Chandan Kumar (Stri Shakti), Mr. Hadi Khan (Mufassil PS), Mrs. Sharda Devi (Social Worker), Dr. Hiralal Saha (Surgeon & Social Worker) and Mr. Sanjay Kumar (Counsellor, FCC).