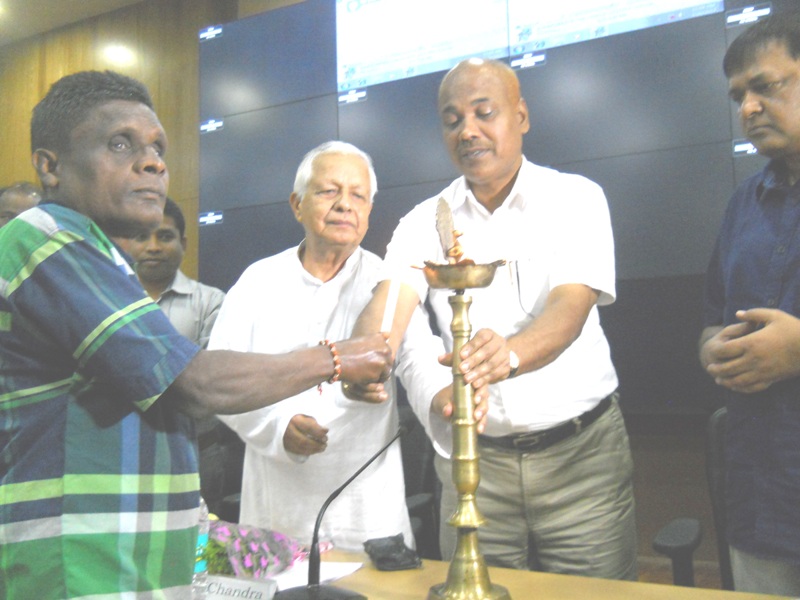 26 July 2017, Ranchi: A state level workshop on Rights of People with Disabilities Act 2016 was held at Project Bhawan, Dhurwa under the joint auspices of NBJK, CBM-Bangalore, AusAid and the Department of Women-Child Development & Social Securities, Government of Jharkhand. This was inaugurated by Mr. Satish Chandra (State Disability Commissioner, Jharkhand) in presence of Mr. Chittaranjan Kumar (Add. Secy., Dept. of WCD & SS, Govt. of Jharkhand), Mr. Nirad Bag (SPO, CBM-Bangalore), Mrs. Kanchan Singh (DSWO, Ranchi) and Mr. Girija Satish (President, NBJK).
The State Disability Commissioner has said that after introducing 21 types of disabilities, there may be 5-7% population of PwDs and they need support from the law. Mr. Prasaana Kumar Pincha (Ex-Chief Disability Commissioner, Govt. of India & currently Special Rapporteur with National Human Rights Commission) was the resource person for this program.  He explained about the RPD Act including its background, features, classification, structure, central rules, benefits, monitoring etc. Also he suggested for state rules and discussed about Disability Assessment Guidelines to be issued by the central and state governments.
Initially Mr. Anand Abhinav (Program Director, NBJK) has welcomed all the dignitaries, participants and said that the new law over rights of PwDs seeks proper understanding and rules on part of Jharkhand. This workshop will facilitate towards elements of the law and we may reach to a consensus for future course of action accordingly, he mentioned. Mr. Girija Satish has briefed about NBJK programs and requested the state government to frame disable friendly rules to avoid delay in required services.
Mr. Nirad Baag has stressed upon inclusive development of PwDs and their CBR to ensure dignity for them. We are proud that CBM has completed 100 years of its existence and support differently able people in 59 countries, he informed. Mrs. Kanchan Singh has called for empathy instead of sympathy for PwDs while Mr. Chittaranjan Kumar has assured for rules on part of the state government, restructuring of DDRCs, Online registration of PwDs and initiative for disable friendly building construction. He said that a separate directorate for PwDs affairs can be constituted soon.
Mr. Dilshad Azmal (Program Manager, NBJK) has anchored the dais and the workshop was concluded after vote of thanks by Mr. Vivek Singh (Disability Activist). There were more than 150 participants in the workshop from NGOs and DPOs (Disable People Organizations) across 21 districts of Jharkhand.