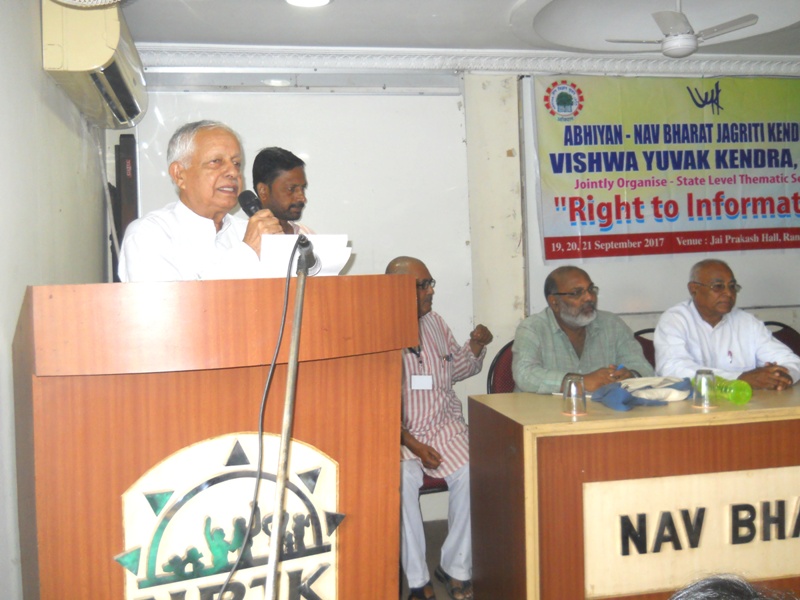 19-21 September 2017, Shantman Nagar (Ranchi): State level seminar on Right to Information Act 2005 was organized under joint auspices of Vishwa Yuvak Kendra-New Delhi, Abhiyan-Patna and NBJK-Ranchi. The program took place at Jay Prakash auditorium of NBJK-Ranchi.
Mr. Girija Satish (President, National Lok Samiti) has inaugurated the seminar and cited about importance of RTI Act towards sincerity in welfare programs by the government. Tax payers deserve all information regarding use or misuse of their contribution to nation building, he opined and asked for clarity about status of NGOs under the law as this aims for transparent and accountable governance basically. Mr. Girija Satish was concerned about coming out of some fake RTI activists also and appealed to value the spirit of this law.
Before this, Mr. Chandrabhushan (Secretary, Abhiyan) welcomed all dignitaries-participants and called the seminar as a step to proper monitoring of governance by informed citizenry. Mr. Rupesh (Right to Food campaign-Bihar & Advisor-Supreme Court) has said that No Information leads us to be without any opinion that damages our democracy ultimately. RTI Act is important as it opens way to get benefits of other laws too, he pointed out. Mr. Ajit Kumar Roy (Program Officer, VYK) has expected for a full length discussion and people's education over one of their important rights in the seminar. Mr. Vinod Ranjan (Mantri, Gandhi Smarak Nidhi-Patna) has termed RTI as a revolutionary step and suggested for its proper use. Mr. Prakash Pran (Mantri, Bihar Sarvoday Mandal) has requested social workers to reveal irregularities of flood relief and social security schemes by the government.
Mr. Ramnath Thakur (Bhojpur, Bihar) has put the question of under-trial prisoners and found RTI Act useful to raise other burning issues under public domain. Mr. L. B. Shastri (Shramik Shiksha Board, Ranchi) was for adequate space for Right to Information within our system and Md. Abdus Subhan (Sahibganj, Jharkhand) has invited RTI volunteers to work at panchayat level. Mr. Krishna Kant (Manav Jodo Abhiyan) and Mr. Shankar Rana (Jharkhand Pradesh Lok Samiti) have appreciated the move to popularize RTI activities.
The seminar was chaired by Mr. Sachchidanand (General Secretary, National Lok Samiti) and participated by more than 100 delegates from various social organizations across Jharkhand and Bihar.