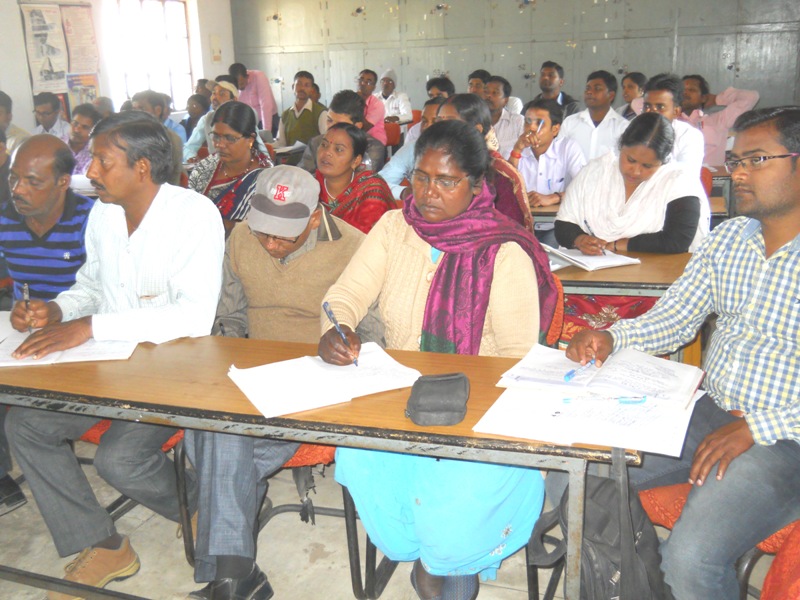 22 – 24 February 2017, Amrit Nagar (Hazaribag): 3 days training upon Activities of Daily Living (ADL) and physiotherapy for field staffs, block coordinators and district coordinators was held under Disability Rights program by NBJK in Hazaribag, Koderma, Giridih, Nawada and Gaya districts of Jharkhand & Bihar with support of AVI-BLF, UK. The trainees have got practical knowledge regarding ADL and physiotherapy in light of different disabilities and their sufferers in remote villages of their work areas.
Dr. Mukesh Kumar Suman (Physiotherapist) and Mr. Parasnath Mahto (Special Teacher) were resource persons who covered relevant topics like anatomy of human body & physiotherapy as well as about activities of daily living for children or people with disabilities to improve their lives qualitatively. Dr. Suman has demonstrated different exercises helpful to CwDs/PwDs and introduced about aids & appliances to be considered accordingly. Also he described about some major disabilities like cerebral palsy, intellectual disability, locomotor/multiple disability, muscular dystrophy, hydrocephalus etc and specific exercises to control their symptoms. Mr. Parasnath Mahto (Special Teacher) has given due importance to activities of daily living by any challenged person to develop self-esteem of such persons. This can be performed by CwDs or PwDs themselves through proper training and motivation; he said and offered tips to provide such training to needy people. Mr. Parasnath Mahto has introduced about Individual Education Plan (IEP) for CwDs and assured about qualitative change by following any well-designed IEP for such children.
These resource persons have briefed about all classified disabilities in the law including Progeria, Dislexia, Autism and paralysis also and appealed the trainees to disseminate useful information among ignorant villagers suffering from disabilities. The training has included 60 participants and Mrs. Sujata Prasad (Program Manager) has coordinated it with support of Mr. Sudeep Kumar.