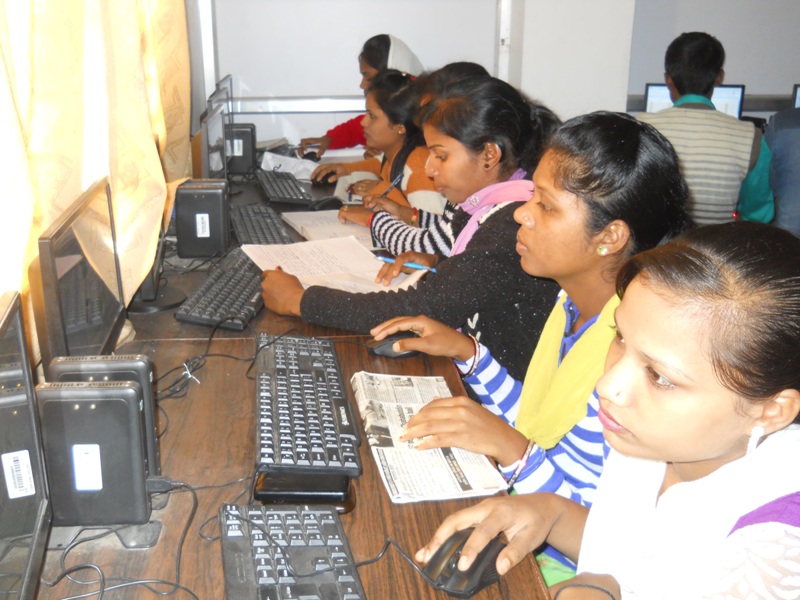 NBJK has launched a residential training program "Skills for Life" among youths with support of Swades Foundation-Mumbai. This provides training in three trades – Basic Computer Applications, Electronics & Hardware (mobile/CFL bulb/charger repair) and Bed Side Patient Attendant or BSPA. Its target group is remote village youths in need of vocational & soft-skill training but can't join any Day-Scholar program in lack of transport facility and resources to meet daily taxi/bus/food expenses. The program accommodates disadvantaged rural youths (mostly middle school passed or non-matric) with post-training support for placement or self-employment.
Skills for Life comprises youths both male and female between age group of 15 to 25 years. Currently first batch of 49 youths (BCA-19, Electronics & Hardware-05 and BSPA-24) have been enrolled to get training of two months duration (full time residential). They belong to BPL families from far-flung villages of Hazaribag, Chatra, Giridih, Koderma, Ranchi, Palamu districts of Jharkhand. The program aims to train 540 youths in 9 batches during the period of 18 months. Besides, this will encourage and enroll 3% youths with disability for training. A token fee of Rs.1000 is chargeable with each enrollment to avoid undesired trainees not in immediate need of job/employment.
NBJK's long association with the sector is a plus point for the program. It's linkage with about 150 employers/industries will ensure placement for the trainees. Also these employers provide feedback about required competencies and help trainees through special classes and OJT (On-Job Training) at their enterprises. Soft-skills packages, short videos as well as smart classes' tools are available to develop confidence, personality and other soft skills required for these youth to compete in job market.  Also NBJK will track the youths after placement or self-employment for at least 6 months and provide work-place solutions to them.