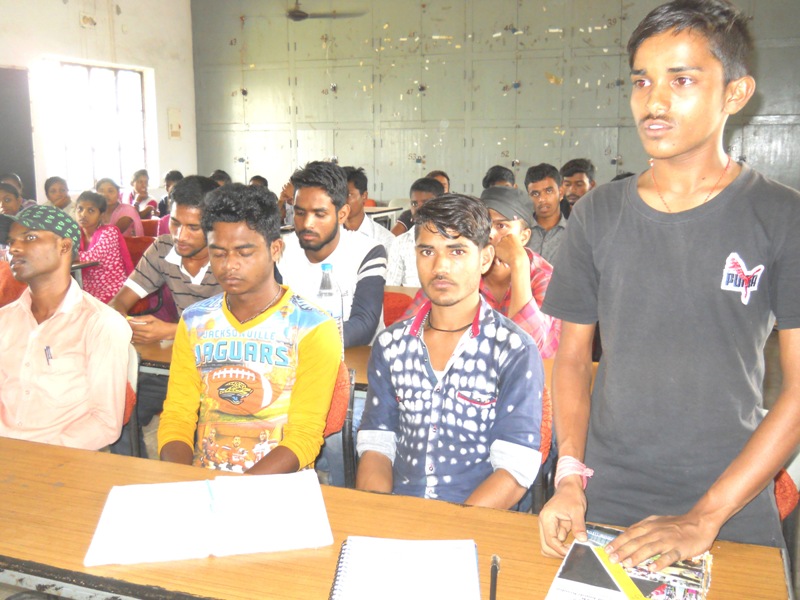 23 September 2017, Hazaribag: HSBC Bank – Swades Foundation, Mumbai supported vocational training program Skill for Life trainees had an opportunity to meet each other during the Alumni Meet held at NBJK Coordination Office. This was attended by the current batch trainees also to get an idea of their post training employability prospect.
On this occasion, Mr. Satish Girija (Secretary, NBJK) has welcomed all such youths and said about their training as a seed of curiosity to be developed as the tree of knowledge by trainees themselves. He stressed upon rational use of internet for capacity building and assured them for organizational support in case of any adverse situation at workplace. Mr. Prabhu Nath Sharma (Treasurer-NBJK & Program In-charge) has advocated for quality improvement and intense marketing of the skills they learn here.
It's significant that Skill for Life program was initiated in the month of October last year and 324 youths in 6 batches have been trained under the trades of Basic Computer Application, Mobile Servicing and General Duty Assistant. Out of these trainees, 247 are already placed or self-employed. Mr. Sharma has informed that most youths from the course of Mobile Phone Servicing have preferred self-employment.
During the Alumni Meet, many ex-trainees of the program have shared their work experience and motivated their juniors to do better. There were 62 youths from current and previous batches who participated in the Alumni Meeting. Also Mr. Kirti Rawat (Placement Officer), Mrs. Sandhya Kumari, Mr. Rohit Kumar, Mr. Amar Raj and Mr. Subodh Kumar (all faculties) have encouraged the youngsters to apply their learnt skills at workplace. On 26th September, 52 trainees from 6th batch (August-September 2017) have received Course Completion Certificate from Mr. P. N. Sharma (Program In-charge) during a simple certification ceremony.