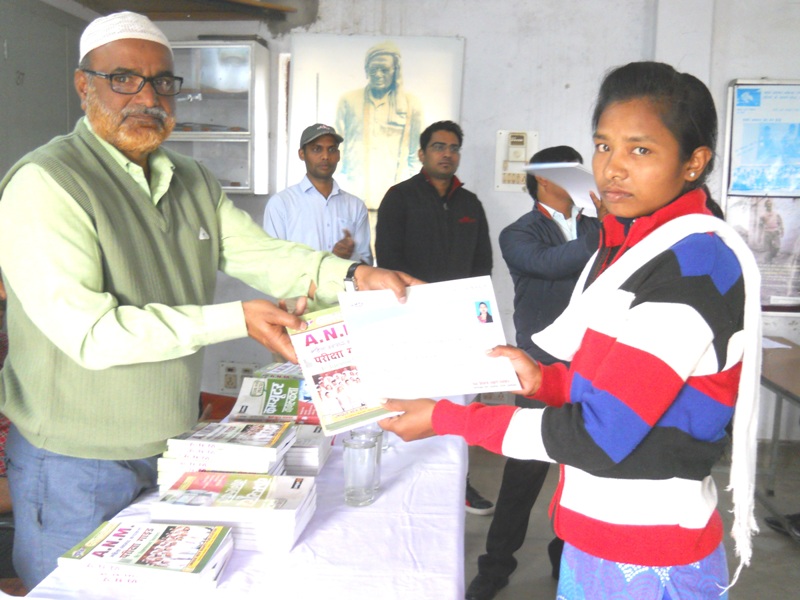 30 November 2016, Amrit Nagar (Hazaribag): HSBC & Swadesh Foundation, Mumbai supported Residential Rojgar Training Center by NBJK has organized certificate distribution ceremony for 49 trainees of first batch who have completed 2 months skill development training in the trades of Basic Computer Applications, Bed Side Patient Attendant  and Electronics & Hardware (mobile/CFL bulb/charger) Repair.
Md. Khalid and Mr. Taapas Chakrowarty (both social workers) have distributed certificates among the youths. Md. Khalid has suggested them to not make complaint rather be a part of the solution, he said that Taj Mahal was not built in a day and one must keep patience to achieve the goal. Mr. Taapas has described learning as an endless process and one gets recognition by work. Mr. Prabhu Nath Sharma (Treasurer, NBJK) has suggested passing batch trainees to shun inferiority complex and to shine learnt skills. Before this, Mr. Satish Girija (Secretary, NBJK) has asked for suggestions from youths and some of them have suggested about enhanced training duration, sports facility and better daily routine etc. We will entertain such suggestions, Mr. Satish has assured.
Mr. Lalan Saw (Mobilizer) has anchored the ceremony and all the trainees (BCA-19, Mobile Repair-05, BSPA-25) have received certificates. Mr. Kirti Rawat (Placement Officer) has informed about On Job Training, placement or self-employment for 45 trained youths. A team of Mr. Subodh Kumar, Mr. Amar and Mrs. Sandhya Devi has supported the event.