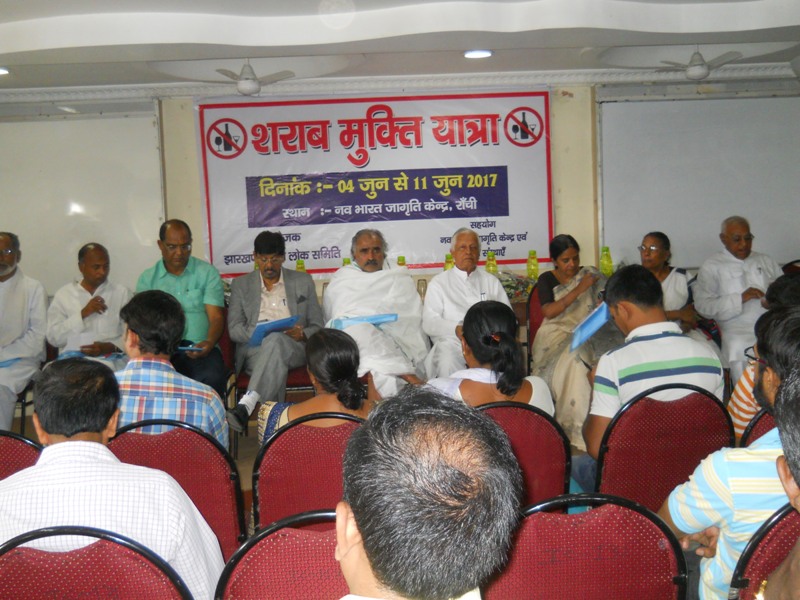 4 June – 11 June 2017, Jharkhand: Just a day before Total Revolution Day (5 June), the legacy from Loknayak JP, Jharkhand State Lok Samiti, Nav Bharat Jagriti Kendra and partner organizations have launched a state level Sharab Mukti Yatra (Journey for Liberation from Liquor) or SMY from Hazaribagh under leadership of Mr. Girija Satish (President, National Lok Samiti). Messrs Kaushal Ganesh Azad (National Coordinator, Lok Samiti), Shivjee Singh (General Secretary, Bihar State Lok Samiti), Shyam Kunwar Bharti (Bokaro District LS), Shankar Rana (Coordinator, Jharkhand State LS), Filman Bakhla (Chatra District LS), Sujit Mishra, Paras Mahto, Vinay Kr. Bhatta, Rajiv Kr. Singh (NBJK, Hazaribag), Saudagar (Coordinator, BSLS), Mrs. Kranti Rasosh (Women's Coordinator, BSLS), Manti Verma (Coordinator, Patna district LS), Punam Bharti (Secretary, BSLS), Dr. Umesh (Muzaffarpur District LS), Mr. Meghnath & group (Folk Artists) were other members of this travelling team.
This began with an anti-liquor convention at Hazaribag, passed through Koderma, Giridih, Devghar, Dumka, Jamtada, Dhanbad, Bokaro, Jamshedpur, Saraikela-Kharswan, Chibasa, Khunti, Lohardaga, Gumla districts and concluded at Ranchi. There were convention, meeting, street play, press conference, handbill distribution at each destination. SMY was responded warmly by the people and youth/women groups, PRI members have welcomed the caravan with much dedication. District Units of Lok Samiti and local VOs were supporting organs for this campaign.
Mr. Girija Satish has initiated the campaign with a tribute to Loknayak JP and explained about the very idea of Total Revolution that includes ethical change in society. He said that growing habit of liquor intake and its social acceptance have blocked such evolution. Since liquor serves disease, anti-women crime, road accident only, it's ban should be viewed as a developmental issue, he mentioned during the meetings. SMY demands for a strict law to ban liquor (except Handiya) completely in Jharkhand, Girija Satish has expressed firmly. Those who support liquor for revenue, should look at Bihar where the state government has initiated towards prohibition, he added. LS president has suggested political parties to consider liquor ban as an agenda for their manifesto.
At Ranchi convention, Mr. Girija Satish thanked all the people for their unconditional support and referred to Indian constitution that directs the state to ban liquor and reminds citizens to oppose any anti-women custom prevailing in the society. Padmshri Ashok Bhagat (Head, Vikas Bharti) has presided over the function. He said that Liquor Ban will strengthen moral fabrics within our society and needs unity of social forces as well as mass awareness also. Mrs. Shachi (CSS, Ranchi), Mr. Sanjeev Vijaywargiya (Dy. Mayor, Ranchi MC), Mr. S. K. Singh (Regional Director, ASSOCHAM), Mr. Sachchidananda (General Secretary, Jharkhand LS), Mr. Wazeer Ahmad (Vice-President, Jharkhand LS) were other speakers on this occasion.