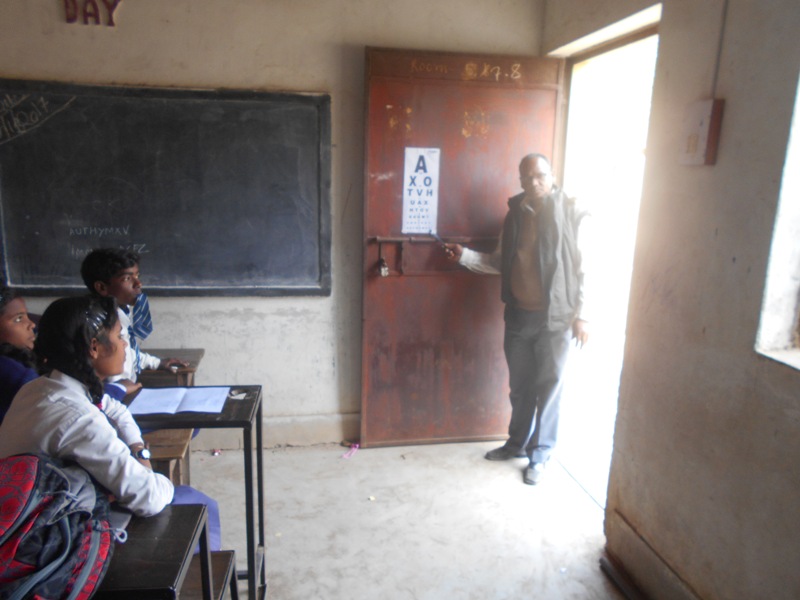 09 January 2017, Charhi (Hazaribag): The district program team has organized a School Sensitization-cum-Vision Test activity at DAV Adarsh Middle-High School under the program of Rights to PwDs with support of AVI-BLF, UK.
There were 75 students of class 7th, 8th, 9th, 10th and some teachers those contributed to the agenda. The students were sensitized towards the problem of people suffering from disability, its causes, myths and realities. Also they have been informed about the entitlements of PwDs and related process. During interaction with the students, some of them like Priyanka Priya & Santosh Kumar (class X), Mahazabeen Parveen & Md. Taufiq Ansari (class IX) and Afreen Parveen (class VII) have performed better and rewarded with prizes.
Also a vision checkup camp was organized for the youngsters, 11 among them have been detected with low vision and referred to Loknayak Jayprakash Eye Hospital for power glasses.
Mr. Ramesh Chandra Singh (Principal), Mrs. Reena Singh, Mr. Maqbul Ansari and Mr. B. Prasad (All Teachers) have cooperated to the event. Mr. Annu Kumar (District Coordinator) has led the organizing team comprised by Mr. Narsingh Ram, Mr. Om Prakash Gupta, Mr. Pradeep Kumar and Mr. Shailesh Kumar from NBJK.