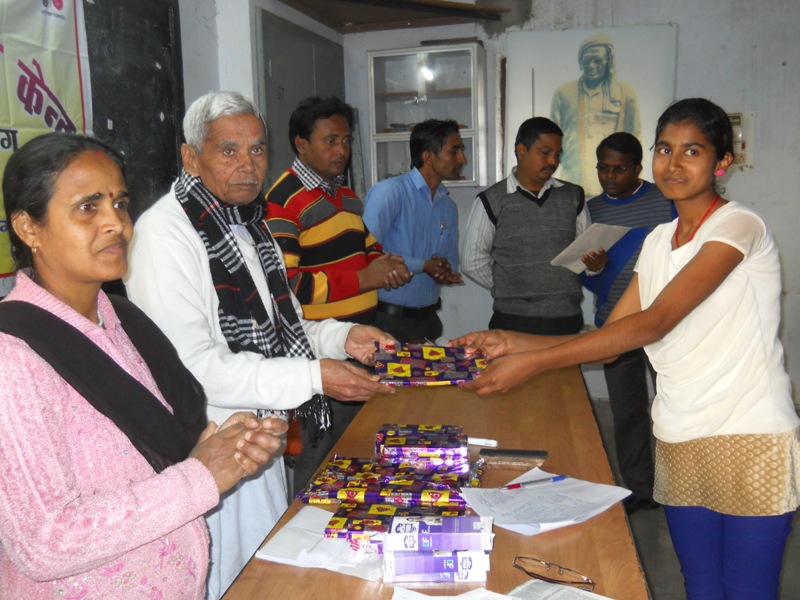 07 January 2017, Hazaribag: The students of NBJK run RCCs (Remedial Coaching Centres) with support of Johnson & Johnson Pvt. Ltd., Mumbai  have come together in a quiz program organized for class 8th, 9th and 10th. There were more than 60 students and some guardians participated in the event on behalf of the RCCs scattered in 10 villages like Birbir, Sakhiya, Baiheri, Demotaand, Babhanwai, Mandaikala, Mandaikhurd, Amrit Nagar, Sarauni and Ramdev Khairka of Sadar block in Hazaribag district.
The quiz was held at NBJK coordination office and the students were asked objective type questions from Maths, Science, English, Social Science and General Knowledge. This was different, interactive, confidence building and provided us a lot of feedback through children's performance, Mrs. Sujata Prasad (Program Manager, NBJK) said after the quiz. For class 8th, three girls namely Jyoti (Babhanwai), Khushi (Amrit Nagar) and Shalu (Babhanwai) have been declared winners. Ishika Rani (Sakhiya), Shikha (Babhanwai) and Shanti (Demotaand) were top three performers in class 9th while Nisha Kumari, Kusum Kumari (both from Amrit Nagar) and Priyanka (Sarauni) have earned pride for class 10th during the quiz.
Mr. Prabhu Nath Sharma (Treasurer, NBJK) has distributed prizes among total 15 students and motivated all the participants to be vocal, to the point and with presence of mind. He was hopeful to enhance academic interest of the students through such activities.