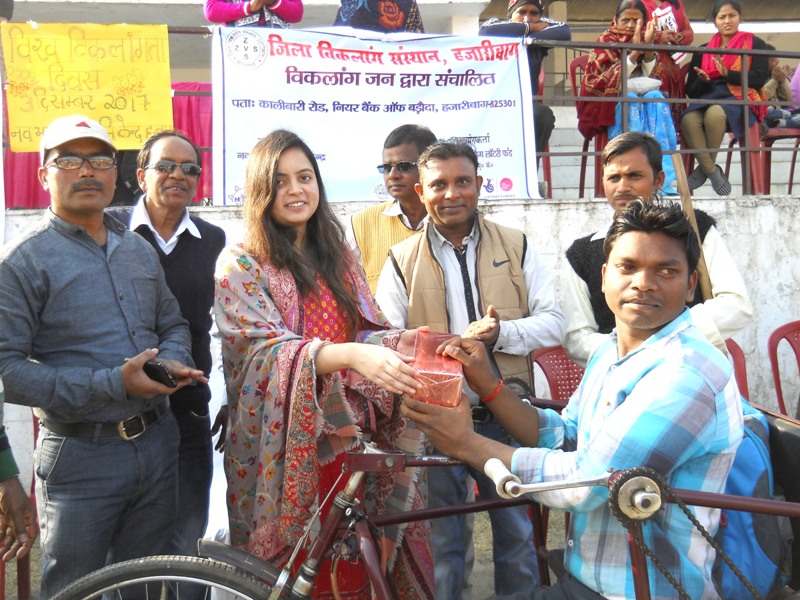 04 December 2017, Hazaribag: A district level sports & painting competition among People with Disabilities was held inside district stadium on the occasion of World Disability Day. The program was inaugurated by Mr. Pradeep Prasad (Social Worker) who called for mainstreaming of nearly 25, 000 identified PwDs of the district and praised the event for its significance. World Disability Day was celebrated by around 150 PwDs from Sadar, Churchu, Katkamdaag and Ichak blocks of the district under the banner of Jila Viklaang Sansthan, a DPO (Disable People's Organization) promoted by NBJK under Disability Rights program with support of Action Village India & Big Lottery Fund, UK.
The PwDs have participated in the action games like Tricycle Race, Caliper Race, Musical Chair, Bucket Ball and Painting. Messrs Vasudev Bhokta (Katkamdaag), Baalkrishna Prasad (Katkamdaag) and Surjan Manjhi (Churchu) stood first, second and third consequently for Tricycle Race. Under the category of Calipers Race, Mr. Hemlal Murmu (Churchu) became first while Mr. Ajay Kumar (Ichak) and Mrs. Anita Kumari (Sadar) got second and third position accordingly. Musical Chair (female group) winners were Ms Deepshikha (Sadar), Mrs. Raziya Khatoon (Ichak) and Ms Anju Kumari (Katkamdaag) on first, second and third positions respectively while all Churchu youths like Messrs Hemlal Murmu, Ajeet Ram and  Mukesh Rana became first, second and third  among male participants of Musical Chair contest. Likewise Messrs Ashok Das (Sadar), Rohit Mahto (Ichak) and Tanwee Singh (Sadar) have emerged as first, second and third winners respectively. In Painting competition, youngsters like Kunal Kumar, Surabhi Kumari and Ruby Kumari from Sadar block have grabbed first, second and third places correspondingly.
During the activities, participants were encouraged by audience and all the winners have received prize from Ms Garima Singh (District Social Welfare Officer) who is also a trainee from Indian Administrative Services. She said that such events are helpful to promote rights of PwDs in a beter way and there is no need to be worried since many PwDs have clicked UPSC (Union Public Service Commission) as her batchmates. District Social Welfare Department will look after the problems of PwDs certainly, she assured publicly.
Jila Viklaang Sansthan, the DPO was represented by Messrs Rajkumar and Deepak Sharma while the organizing team members were Mr. Annu Kumar, Mr. Sujit Mishra, Mr. Om Prakash, Mr. Shailesh, Ms Shahjehan, Mrs. Neelam Shrma, Mrs. Pratima Devi, Mrs. Mary Hansda, Mr. Poorn Prakash Rana, Ms Rashmi Parween, Mr. Paras Nath Mahto, Dr. Mukesh Suman and Mr. Bhuwaneshwar. Md. Nayeem has anchored the dais and Mr. shankar Rana has delivered vote of thanks.