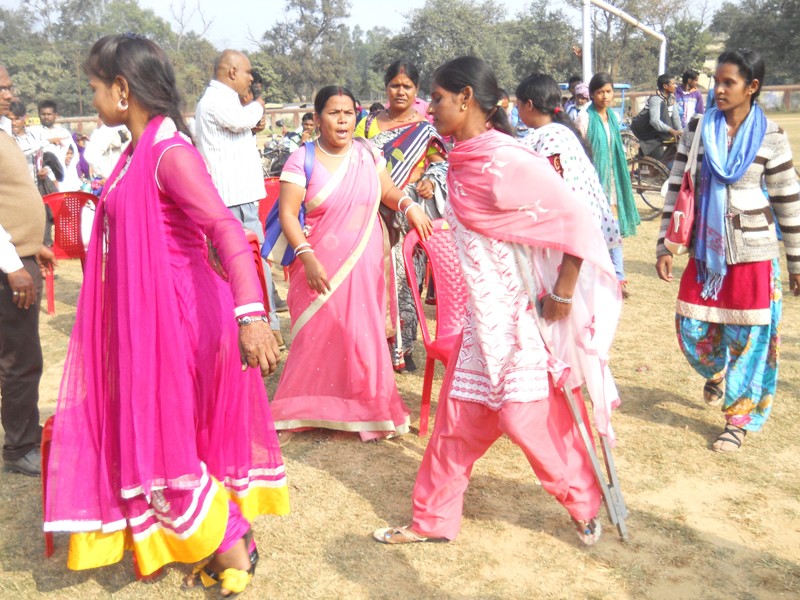 03 December 2016, Hazaribag: More than 250 people with disabilities from Sadar, Katkamsaandi, Katkamdaag, Churchu, Daroo and Ichak blocks of Hazaribag district have gathered inside St. Columba College football ground and celebrated World Disability Day with much fanfare by participating in different sports competitions. The event was organized by NBJK under Disability Rights program with support of AVI-BLF, UK. Mr. Pradeep Prasad (Social Worker) has inaugurated the day and called himself lucky to be present there.
He has blown whistle to start Tricycle race of males that declared Vasudev Bhokta (Udaipur), Balkrishna Prasad (Salgawan) and Md. Shahabuddin (Bonga) for first, second and third positions. During Crutch race, Hemlal murmur (Churchu), Santosh Karmali (Churchu) and Ajay Kumar (Ichak) were winners among men while Maina Kumari (Churchu), Reena Kumari (Sadar) and Rukhsana Khatoon (Ichak) have won in women group. Likewise Pushpa Devi (Okni) and Parvati Kumari (Kanchanpur) got first and second positions in Bucket Ball game. Shahbaz Alam (Pelawal), Ajay Kumar (Udka) and Rohit Kumar (Lotwa) stood first, second and third for the same under men's category. After Musical Chair for men, Dinesh Hansda (Churchu), Khaaleshwar Paswan (Ichak) and Jitendra Sahu (Sadar) were winners and Sunita Kumari (Churchu), Parvati Kumari (Kanchanpur), Raziya Khatoon (Bonga) had the chance to be on first, second and third place. Also a cricket match between youth PwDs from Sadar and Vishnugadh blocks took place and ended with victory of Sadar block team.
All the winners have been honored with prizes from the Chief Guest on this occasion. WD Day was supported by Rajkumar, Akhilesh, Nagesh, Neha Parveen, Mukesh Rana, Vasudev Thakur, Rupa Kumari, Parvati Kumari, Raziya Khatoon from DPOs namely Viklaang Vikas Jan Kalyan Sangh (Sadar), Satya Viklaang Vikas Trust (Ichak), Ujala Viklaang Vikas Sangh and Adarsh Viklaang Vikas Sangh (Katkamsaandi). NBJK program team has coordinated the event.