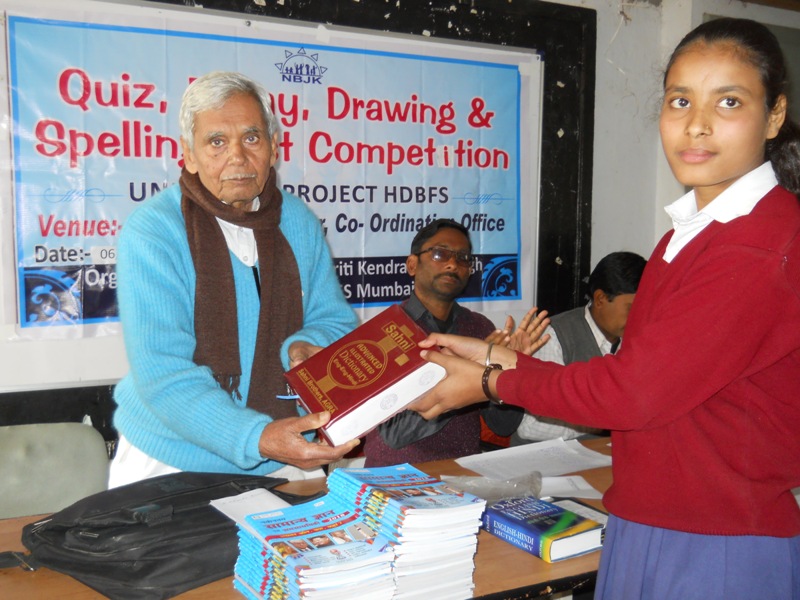 06 January 2018, Amrit Nagar (Hazaribag): An inter-centre Quiz, Esaay, Drawing & Spelling competition for school girls from Remedial Coaching Centres (RCC) was held at the Coordination Office of Nav Bharat Jagriti Kendra. Total 42 students from the RCCs at Jhumra, Lalpur Chowk, Amrit Nagar, Babhanwai, Demotaand, Baihari, Mandaikhurd, Silwar, Nagwaan, Rola have participated in this event joyfully.
After overall assessment, Ms Khushi Rani from Amrit Nagar was declared first while Ms Komal Kumari of the same village became second and Ms Usha Kumari from Babhanwai got third position among the participants. These girls have got first, second and third prizes whereas all other contestants have received consolation prizes from Mr. Prabhu Nath Sharma (Treasurer, NBJK) on the dais. On this occasion, Mr. Sharma opined that RCC aims to support quality school education for girls in rural areas so that they can have academic achievements in the subjects like English, maths & science. Also he said that the program is like a preventive measure against early marriage of girl children as education can change our mindset.
Many RCC teachers like Messrs Ganesh Vishwakarma, Md. Israfil, Ranjit Mishra, Jawed Hussain, Yogendra Prasad, Purandar Kumar, Pranav Kumar, Sunil Paswan and Chanda Kumari have joined the event with their students and organized it effectively with support of Mr. Pintu Kumar (Block Coordinator, Sadar) and Mr. Vikas Kumar (Block Coordinator, Churchu). Such competitions are part of the activities around 30 RCCs in Sadar and Churchu blocks with kind support of HDFSL, Mumbai.