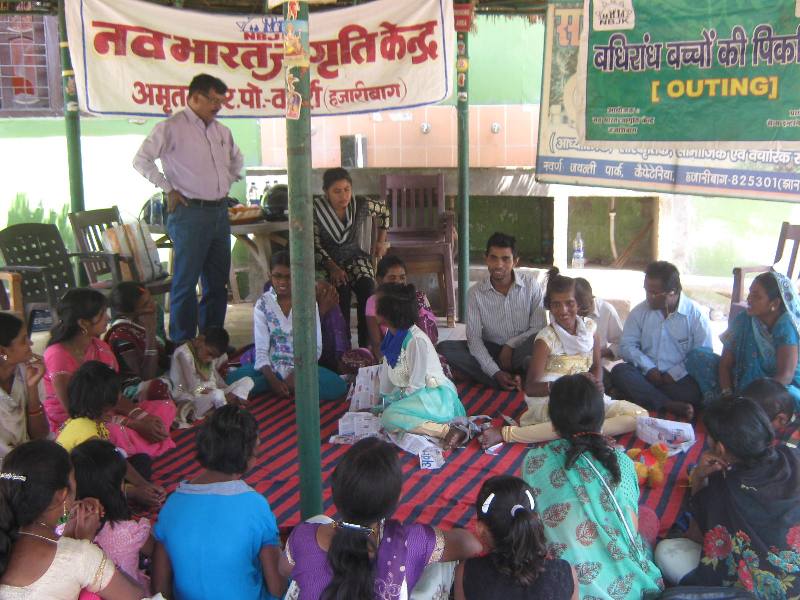 28 March 2017, Hazaribag: 13 deafblind children and their parents/carers of Hazaribag have enjoyed a picnic held at local Swarnjayanti Cafeteria Park. This event was organized under the program of Services to Deafblind Children with support of Sense India, Ahmedabad. All DB children and carers have contributed to different games and entertainment activities. They talked, communicated and participated to make atmosphere more positive.
Md. Nayeem (Asst. Program Coordinator) has reminded the parents about physiotherapy, ADL, functional reading-writing, mobility, Braille practice and vocational training for their wards. He said that deafblind children need all these activities regularly and their parents are supposed to ensure such schedule. This works and resulted as livelihood linkage for 7 young children suffering from deafblindness and multi-sensory impairments, he informed. Mr. Parasnath Mahto (Special Teacher) has motivated the children and parents towards vocational training, school enrollment, socialization and important life skills for adolescents. The services being availed by such children are their rights and these can be game changer for them with support of family and society.
The picnic was ended with the group feast, delicious dishes and an appeal to link more deafblind children with the program. All deafblind children and their parents/carers have been dropped at their respective places. Mrs. Indu Gupta, Ms Reshmi Parveen (CBR workers) and Mrs. Tanuja Khatoon (Caretaker) has supported the occasion.