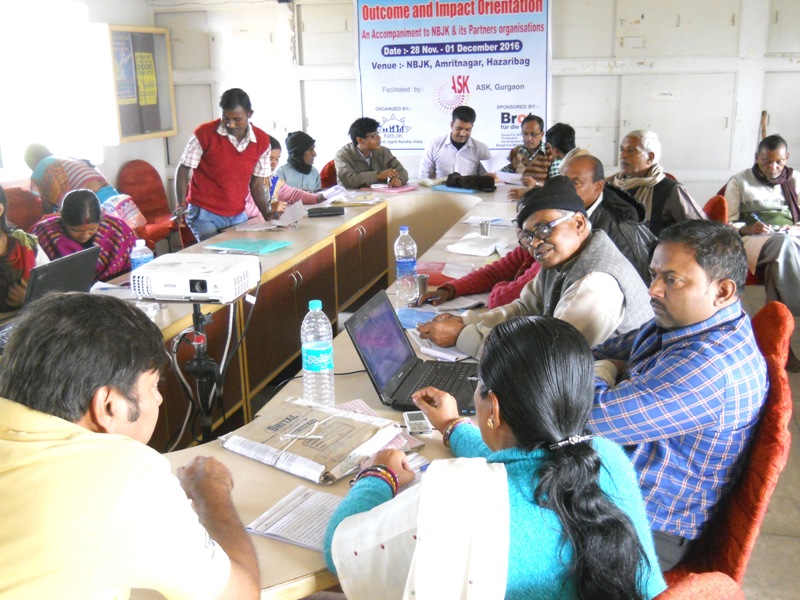 28 November-01 December 2016, Amrit Nagar (Hazaribag): 4 days residential training held on Outcome & Impact Orientation for small projects by VOs in jharkhand and Bihar under Support to Small Initiatives program by NBJK with support of BFW, Germany. These VOs are working among youths/farmers upon Skill Training and Agriculture Development in the districts like Hazaribag, Koderma, Chatra, Ramgarh, Giridih, Ranchi, Patna, Gaya, Madhubani, Muzaffarpur, Raxaul, Jamui in Jharkhand and Bihar.
Their Secretaries/competent staffs have developed suvey, planning and reporting format with support of Mr. Prakash Kumar Layak (ASK, Gurgaon), the trainer. Also they have excercised to develop project proposals on the issues like educational upliftment of children, human trafficking and food security to work further in their areas with support of different funding agencies.
Out of 21 trainee organizations, 6 were women led and shown interest to implement child-women welfare programs if gets supported. There were 11 VOs from Jharkhand and 10 from Bihar in the training. Mr. Rajeev Kumar Singh (Program Manager) and Mr. Shankar Rana (Asst. PM) were in the organizing team.