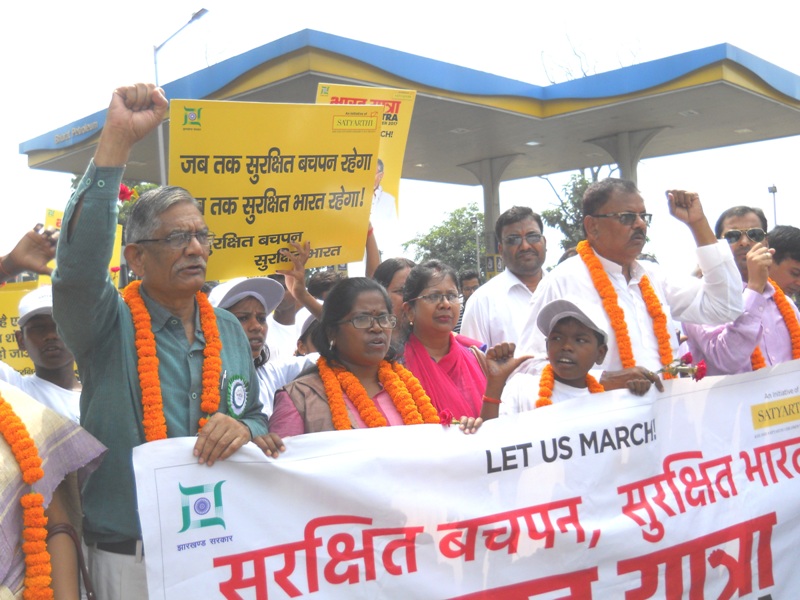 27 September 2017, Hazaribag: Hazaribag town became a stay point for Bharat Yatra, a nationwide march led by Nobel Peace Laureate Mr. Kailash Satyarthi against child sexual abuse and trafficking, though Mr. Satyarthi couldn't be present here due to some unavoidable reasons. Bharat Yatra team reached here with Mr. Arjun Kumar (Coordinator, Bharat Yatra Team), Mrs. Arti Kujur (Chairperson, Jharkhand State Commission for Protection of Child Rights), Mrs. Shanti Kindo (Ex-Chairperson, Jharkhand State Child Labour Commission) and other team members. The yatra was received by Mrs. Veena Kumari (District Child Welfare Officer), Mr. S. P. Singh (Chairman, District Child Welfare Committee) and Mr. Girija Satish (President, NBJK) with staffs & children from NBJK run programs/schools. All these have participated in the rally chanting pro-children slogans and marched upto Hazaribag Town Hall where a thematic convention held under joint auspices of District Administration and NBJK.
On this occasion, Mr. Girija Satish has welcomed the move upon issues related child rights by Kailash Satyarthi Children's Foundation and said to consider not only children but their families, surroundings and society also. He suggested for measures like liquor pohibition and gender equality for a safe childhood as well as shared about child centered programs by NBJK. Mr. Arjun Kumar has thanked the Government of Jharkhand with NBJK for cooperation and informed that Bharat Yatra (11 September-16 October 2017) was started from Kanyakumari in Kerala to cover 22 states in India. During 1993 in Jharkhand, we have initiated Bachpan Bachao (Save Childhood) movement against Child Labour and standing with children much firmly now, he pointed out. Mrs. Shanti Kindo was in favour of a collective say with general awareness in interest of children and explained about different dimensions of child exploitation. Mrs. Arti Kujur has called for honour to women's power and safety for girl children in the wake of Navaratri. Rational use of internet and dialogue between parent-child are the things we must take care now, she insisted.
Mr. Praveen Kumar (Labour Superintendent) has mentioned about Government initiatives to eradicate practice of  child labour in the district and rehabilitation of such children. Mr. S. P. Singh and Mrs. Priti Sinha (Member, CWC) have discussed about child rights and activities of Child Welfare Committee while Md. Moazzam (Advocate, DLSA) has informed about legal provisions to prevent child labour. The convention was presided by Mrs. Veena Kumari and  enriched with monologue of Mr. Vipul Singh (Bharat Yatra Team) and cultural programmes by the students of NBJK run Surekha Prakash Bhai Public School, Chouparan as well as Roshni Dhruv High School, Churchu. Mr. Shankar Rana (Asst. Prog. Coordinator, NBJK) has anchored the dais and Mr. Satish Girija (Secretary, NBJK) has delivered vote of thanks to all involved with the programme.