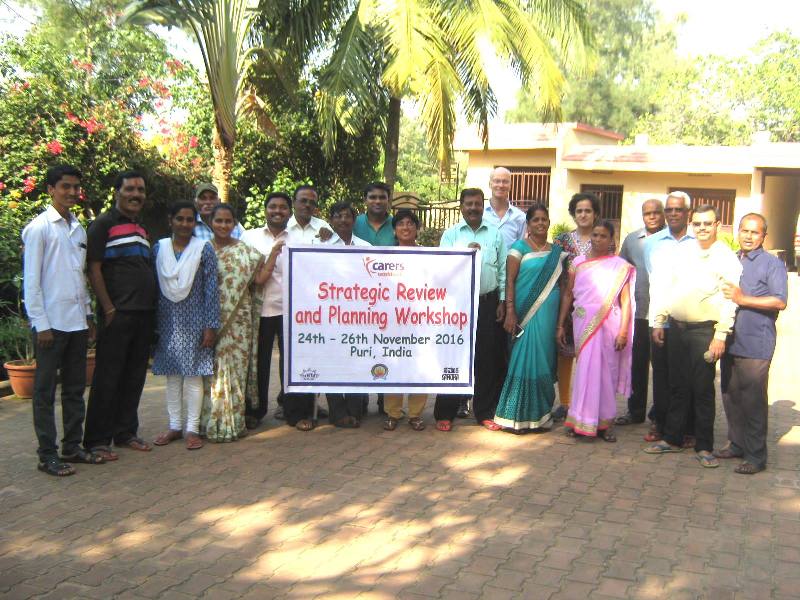 24 – 29 November 2016, Puri (Orissa): NBJK program team has participated in strategic review & planning meeting of Indian partners with Carers Worldwide, UK. This was about to review the work, reflecting on the impact, analyzing of strengths & weaknesses and future plan of actions as individual organizations and as a network.
The meeting was started with organizational presentations by NBJK, SACRED and SAMUHA (from Andhra Pradesh and Karnataka), with whom Carers Worldwide works among carers in India. Dr. Anil Patil (ED, Carers Worldwide) has facilitated the meeting towards strategic planning and professional development as well as collaborative working. Mr. Derek Hooper (resource person) has focused upon values to make the program as rights based, inclusive, supportive, sustainable, honest, open, brave, positive and equal. He has stressed over awareness and promotion of livelihood among carers that ensures fulfillment of their need and makes caring hassle free.
Mr. Rajeev Kumar Singh (Program Manager, NBJK) has informed about 68 carers processed for livelihood linkage and others already engaged with petty business like tailoring, cow/goat/pig rearing, snacks making & vending etc. We will cover Katkamsaandi and Chouparan blocks of Hazaribag district further and aims to work with 4000 carers in Koderma, Giridih, Nawada, Gaya districts of Jharkhand and Bihar, he said. The meeting has discussed over challenges like fund raising, establishment of Community Caring Centers and instilling the values to run program successfully. NBJK team was comprised by Md. Nayeem (Asst. PM), Mrs. Vimla Rana, Mrs. Pratima Devi, Mr. Kamal Kant Pandey and Mr. Sujit Mishra (all field coordinators).