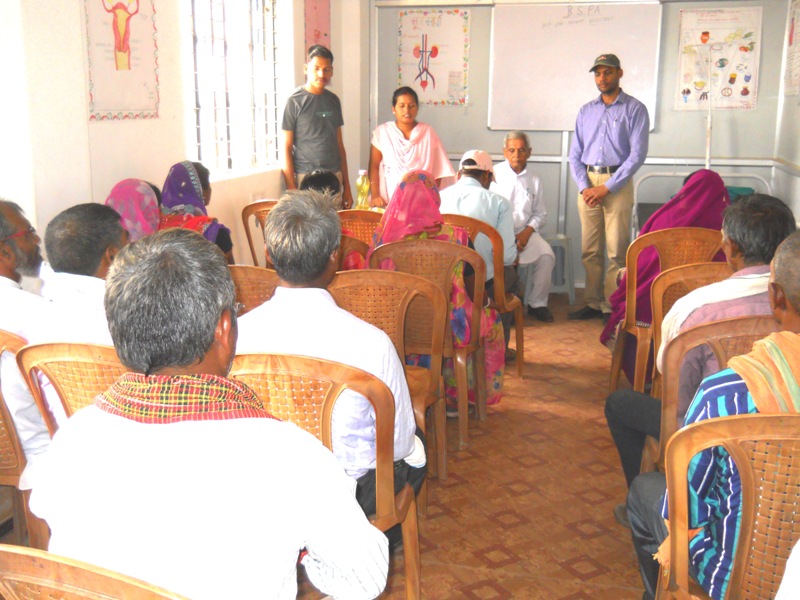 13 May 2017, Amrit Nagar (Hazaribag): A meeting with the parents of 4th batch trainees enrolled under the program of Residential Rozgar Training Center was held to ensure a trouble free course completion for the youngsters belong to remote rural areas. Mr. Prabhu Nath Sharma (Treasurer-NBJK & Program In-charge) has welcomed the parents and briefed them about 2 months' duration courses of Basic Computer Application (BCA), Mobile Repair and Bed Side Patient Attendant (BSPA).
He has discussed about common problems with youths and made the guardians acquainted with rules & regulations their wards are supposed to follow during the period. Mr. Prabhu Nath Sharma has requested the parents to motivate their daughters or sons to learn the skill of their choice firstly and to wait for desirable income as that needs experience with perfection. However he assured the parents for work place support to each pass out in case of any problem with the employer. Mr. Sharma has shared his view about the growing need of skilled youths to support the concept of cashless society. He said that such youths can be change agents, service providers and earning hands for society.
The meeting was attended by Mrs. Gita Devi, Mr. Lildhari Das, Mr. Shatrughan Kumar, Mr. Tapeshwar Bhuiyan and other parents from Chouparan, Keredari, Simariya, Bishnugarh, Daroo, Churchu blocks of Hazaribag and Chatra districts. Also faculty members like Mrs. Sandhya Kumari, Mr. Amar Ram, Mr. Anand Kumar have talked to parents and replied their queries.