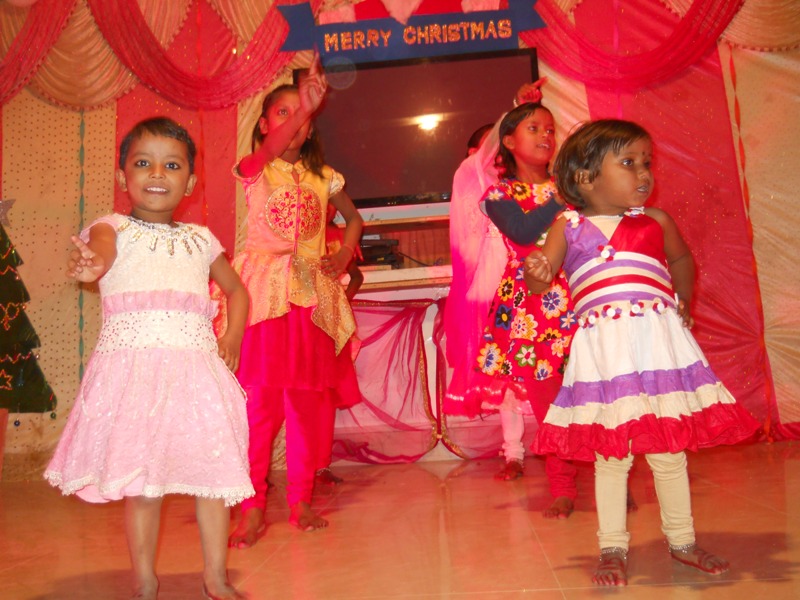 25 December 2017, Silaunja (Bodhgaya): NBJK managed Lord Buddha Home for Children has celebraed Merry Christmas with a different tone and a number of events took place here in presence of Mr. Satish Girija (Secretary, NBJK) and Mr. Ton Cable (Representative-SKB, the Netherlands) on this holy occasion. This started with distribution of rice, flour, sugar, salt, biscuit, blanket, sari among 350 people from 22 villages like Silaunja, Bakraur, Barkathiya, Hatiyar around LBHC by Bodhgaya Heart Foundation, a community of Vietnamese people settled in USA. These followers of Lord Buddha have chosen Christmas Day  for their religious rituals and established a resemblance between two great personalities generously.
The function was followed by friendly sports matches of Football, Kabaddi and Running competitions among the children of LBHC. Despite being in  old age, Mr. Ton Cable too has played with the children and motivated them. When the game was over, all the participants have received prizes from Messrs Satish Girija and Ton Cable. After lunch, these children became busy to arrange Christmas Gathering scheduled in evening. They have decorated the stage magnificently and invited Mr. Satish Girija with Mr. Ton Cable to join their programme. These orphan children of LBHC have made the Christmas memorable by presenting a number of cultural activities. They cut a big cake and celebrated happy birthday of Jesus Christ, beloved son of the God.
On this occasion, Mr. Satish Girija has welcomed Mr. Ton Cable and said that Jesus is nothing but a symbol of love, kindness, compassion and by celebrating Christmas we orient ourselves towards such divine qualities. Mr. Ton Cable has greeted all at LBHC and conveyed a lot of best wishes to them from Mrs. Ine Buma (Patroness-SKB, the Netherlands) who couln't attend the programme due to poor health. Also Mr. Ton has appreciated the children for such an attractive adornment of podium.
This propelled them to present a variety of song, music and dance in group/solo before the audience. After welcome song by Neha group, Sweety-Geeta-Khushee-Sonali, Chitra Didi group, Pooja, Pankaj, Sonam-Pooja-Gudiya-Sheesam have performed dance with the songs like Papa mere Papa, Aaja Nachle, Kola beri, Dhing Chika, Chalti hai kya and many more. These children have shown many difficult Yoga exercises too and earned rich applause from spectators. Ms Chitra Sahoo (Counsellor, LBHC) has supported the children for rehearsal and participated with them actively. The program was anchored by Master Sumant (an LBHC boy) and Ms Chitra Sahoo has thanked all for the teamwork. The program ended with a delicious group dinner.