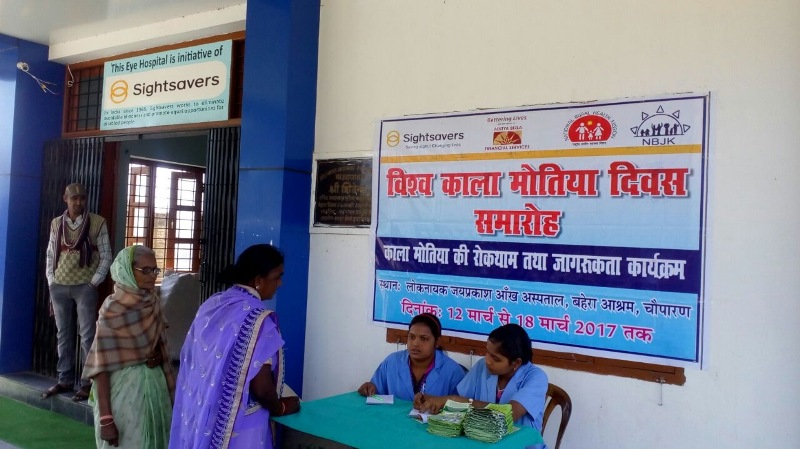 12-18 March 2017, Bahera: NBJK run Loknayak Jayprakash eye Hospital at village-Bahera (Chouparan, Hazaribag) has observed Glaucoma Week from 12 to 18 March and provided free eye check up, medical consultation, medicines and cost effective treatment for common people.
This was a SightSavers initiative by the eye hospital for rural people and we have started Glaucoma treatment unit here since last year with support of Aditya Birla Financial Services, Mumbai, Mr. Gandharv Gaurav (Director, LNJPEH) has informed in a press communique by the eye hospital. He said that Glaucoma patients suffer from over fluid inside their eyes and growing backside pressure on related nerves damages side vision at first and ceases front vision later. The people with myopia, diabetes, high blood pressure and heart problem become easy victim of Glaucoma, he added.
The Galucoma Week has enabled more than 700 patients to take care of their eyes as they availed free service of eye check up. On 18th March, 245 patients have gone through eye screening and their intra-ocular pressure was gauged by NCT device. Those found with high pressure were detected again by Perimetry machine. They got free medical consultation and medicines were distributed among them. The Week was organized under guidance of Dr. Alok Kumar (Ophthalmologist, LNJPEH) with support of the team included Mr. Tripan Das (Manager, LNJPEH), Mr. Karunanidhi (Asst. Manager, LNJPEH), Mrs. Anita Devi, Ms. Pinki Nidhi and Mrs. Annapurna Devi.