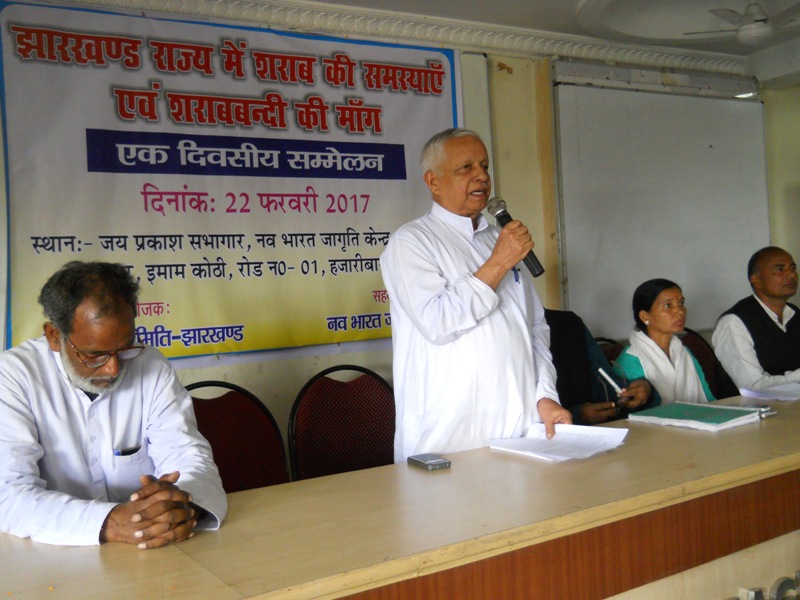 22 February 2017, Shantman Nagar (Ranchi): A convention on Liquor Problems & Prohibition Demand in Jharkhand was organized by state unit of Lok Samiti with support of NBJK. Mr. Girija Satish (President, National Lok Samiti) was the key speaker who enlisted problems like diseases, anti-women crimes and accidents due to liquor and referred Article 47 of Indian constitution which directs the state to take step like liquor ban in welfare of common people. Liquor selling scheme by the state government is harmful and we must pay attention to women's opposition to liquor at various places in Jharkhand, he said. Girija Satish has appreciated anti-liquor move by Bihar Government in interest of people and wished for stern action against Liquor business in Jharkhand also.
Mr. Shriniwas (Senior Journalist) has clarified that all intakes are not bad but considering a larger interest, it should be controlled. Kanak (JP movement activist & Sociologist) has expressed concern over logics placed in favour of liquor and said about the choice of either liquor or wisdom. Mr. Wazir Ahmad (Vice-president, State Lok Samiti) has found a commonality among all religions as opposing liquor and said that ordinary people, especially women like to ban liquor. He has rejected the logic of revenue through liquor and suggested to generate it from mineral or other outlets.
Mr. Shivji Singh (General Secretary, Bihar State Lok Samiti) has mentioned about the roles of rural women and Lok Samiti behind governmental decision to prohibit liquor in Bihar. He was hopeful for a countrywide ban on liquor and appealed people to support the issue. Mr. Prabal Mahto (Journalist) has blamed a parallel liquor economy with strong lobby to run it smoothly but they are afraid of people's opinion, he added. The convention has passed seven resolutions related to liquor as anti-women, its bad effect on family-society, unsecured young generation, liquor born poverty, liquor as representing feudal mindset and constitutional measures for prohibition. This made a strong demand to ban liquor in Jharkhand and decided to observe Women's Day as Anti-Liquor Day, to organize convention & collection of 10 thousand signatures in favor of Liquor Ban in each district as well as memorandum to Ministers and MLAs.
The program was chaired by Mr. Chandan Mishra (Editor, Dainik Hindustan) who expressed his firm belief in women power and suggested them to unite their scattered efforts for any major policy change. He assured for cooperation from media to highlight the issue. Also Mrs. Kunti Bahen, Mr. Hashmat Rabbani, Mrs. Indira Jha, Mr. Janki Thakur, Mrs. Uma Devi, Mr. Munna Pandey, Mrs. Parinita Singh, Mr. Gautam Sagar, Mrs. Meena Devi, Mrs. Punam Devi, Mrs. Supriya Singh, Mrs. Wilchen Ekka, Mrs. Nilam Devi  have shared their views on the occasion. The dais was anchored by Mr. Kaushal Ganesh Azad (National Coordinator, Lok Samiti) and Mr. Shankar Rana (Coordinator, State Lok Samiti) has thanked all at last.