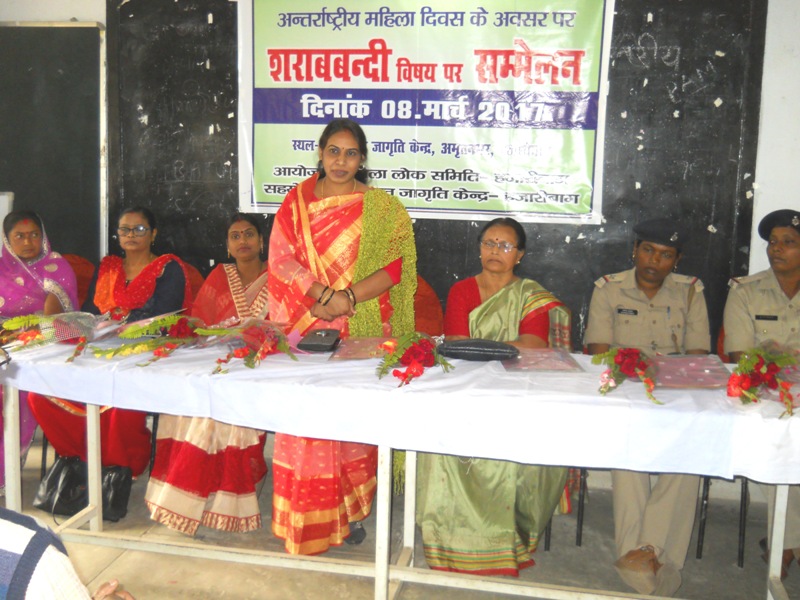 08 March 2017, Jharkhand-Bihar:  Lok Samiti, a non-political and non-religious People's Organization founded by Sarvoday leader JP has declared a clarion call against liquor, dowry and superstition on the occasion of Women's Day. NBJK and network organizations have supported the issues raised by LS and organized Women's Conventions in various districts.
In Hazaribag, Mr. Girija Satish (President, National Lok Samiti) has participated in Women's convention and appealed Jharkhand government to introduce liquor prohibition policy as liquor is an enemy of women's empowerment. He announced that Lok Samiti is observing Women's Day as Liquor Prohibition Day in 10 districts of Jharkhand. Mrs. Sarojini Devi (Pramukh, Sadar Block) has justified women's demand to ban liquor for sake of families and society. She opposed government's involvement in liquor vending. Mrs. Sheela Kumari (Secretary, Stri Shakti) has stressed over education and legal awareness among women to have a strong say over issues vital for their survival. Mrs. Sharmila Hansda (ASI, Women's PS) has accepted a deep correlation between liquor and crime against women. Prof. (Mrs.) Kiran Rana has presided over the convention and branded liquor as the root cause of numerous problems for women. She appreciated the idea to observe Wome's Day as Anti-Liquor Day across the state and clarified that men-women are not competitors rather they are supposed to support each other in a constructive way. The convention has passed some resolutions and prepared a memorandum to the Deputy Commissioner, Hazaribag that demanded Liquor Prohibition, Security for women trying to oust liquor from their families/villages, referendum over liquor, governmental procurement for Mahua ( a key sorce of local liquor), compliance of Articles 47 & 51A of Indian Constitution and to take support of women in anti-liquor move.
Besides Hazaribag, such anti-liquor conventions were organized in Koderma, Giridih, Bokaro, Saraikela-Kharsawan, Dhanbad, Ramgarh, Chatra and Lohardaga districts also and women have demanded for Liquor Prohibition. In Nawada and Bodhgaya of Bihar, women conventions have raised the issues of dowry and superstitions.
There were around 2000 people participated in these conventions. Mrs. Sujata Prasad, Mr. Ajit Rana, Mr. Abhay Kumar, Mrs. Sushma Devi, Mr. Shankar Rawani, Mrs. Punam Barnwal, Mr. P. N. Sharma, Mr. Pravin Chandra Pahadi, Mr. Gautam Sagar, Mr. Angura Mahto, Mr. K. G. Azad, Mrs. Kunti Bahen, Mr. Wazir Ahmad, Mr. Chandrapati Yadav and many more from Lok Samiti, NBJK, Lok Chetna Vikas Kendra, Dishayen, Sahyogini, Lok Hit Sanstha, Lohardaga Gram Swarajya Sansthan and other VOs have played a crucial role behind Women's Day celebration in a different way.