---
---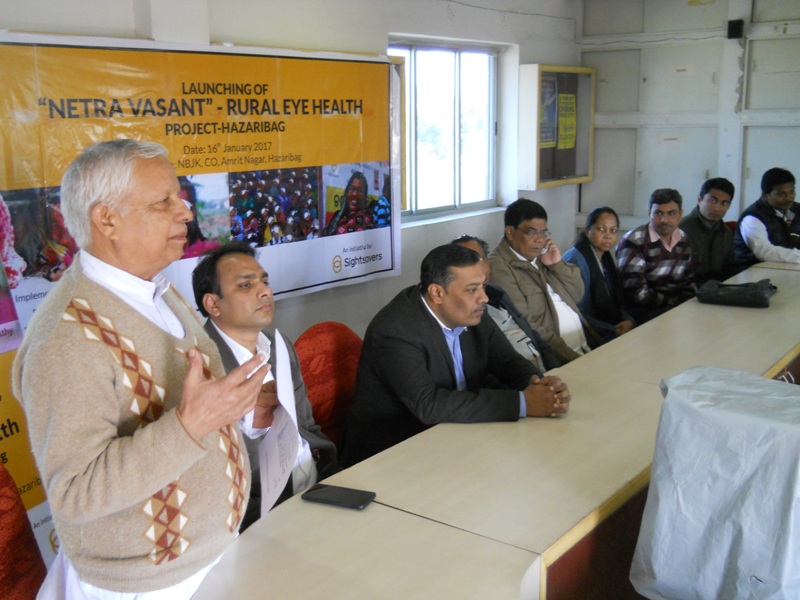 16 January, Hazaribag: NBJK run Loknayak Jayprakash Eye Hospital has launched a small project namely Netra Basant on rural eye care with support of Sightsavers and Bharat Financial Inclusion Ltd. This will ensure 1000 cataract operations and 500 power glasses free of cost for poor people in villages.
The project was inaugurated by Dr. Rajendra Paswan (SPO, National Program for Control of Blindness) during a function held at NBJK. He has commended the MoU with Sightsavers for blindness control program in Jharkhand and was hopeful for well implementation of Netra Basant by LNJPEH in Hazaribag and adjacent districts. Mr. Girija Satish (President, NBJK) has welcomed all dignitaries on this occasion and informed about 24,923 OPD and 6,150 cataract surgeries by the hospital during 2016. He has mentioned about Infinity a modern phaco machine for cataract surgery and treatment facilities for Diabetic Retinopathy, Glaucoma and Medical Retina at LNJPEH. Mr. Sudipto Mohanti (Regional Director, Sightsavers) has outlined about upcoming activities of Sightsavers under partnership of the state government and NGOs to meet eye care need in various districts of the state. He praised BFIL to sponsor Netra Basant under its CSR initiative. Mr. Abhishek Singh (Representative, BFIL) has informed about the target of 20,000 cataract surgeries for the year 2017 and said that Netra Basant will help us to deliver.   Dr. H. B. Barnwal (Civil Surgeon, Hazaribag) has mentioned regarding 2,394 cataract operations by DSCB last year and admired LNJPEH for up gradation of eye care service as well as access to rural population in the district. Also Dr. (Mrs.) Ruby Lakra (ACMO), Dr. Umesh (Eye Surgeon), Dr. Jitendra Kumar (SPO, Sightsavers), Mr. Novel Verghese (CFRO, Sightsavers), Mr. Satish Girija (Secretary, NBJK) and Mr. Gandharv Gaurav (Program Director) have graced the function.                                                
An Eye Screening Camp was organized at NBJK premises on this occasion that drawn 275 patients from villages of Sadar, Tatijhariya, Ichak, Churchu, Daroo, Chouparan, Itkhori, Katkamsaandi blocks of the district for eye check up and 124 were found with cataract. They have been referred to LNJPEH for operation and went there by hospital bus on the same day.