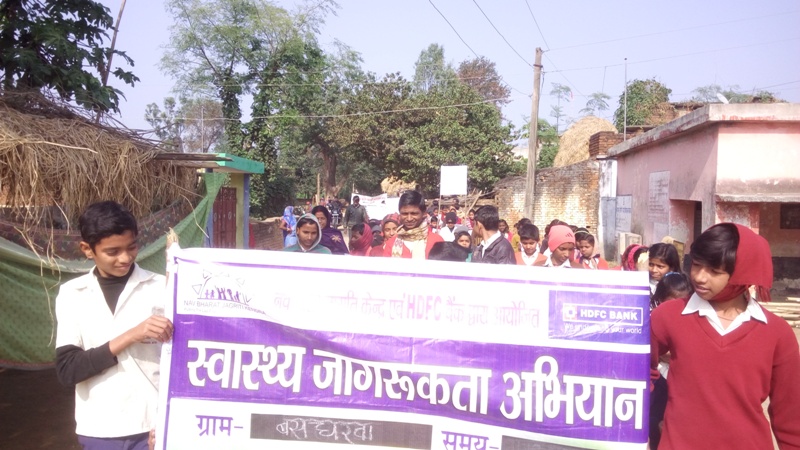 25 February 2017, Koderma: With support under CSR initiative of HDFC Bank, NBJK has launched a Holistic Rural Development Program (HRDP) for 15 villages of Koderma district. This was initiated in October 2016 with coverage of 2656 households from 15 villages in Koderma Sadar and Jainagar blocks of the district. The project is for three years and it goals to strengthen integrated development of the villages to secure food, health care, sanitation and quality education with environmental sustainability. This is to promote different means of livelihood by adopting appropriate technology in farm/non-farm sectors, to improve quality of education, enrollment and retention in government schools, to improve sanitation & hygiene and to introduce renewable solar energy in villages.
Mr. Arvind Kumar Singh (Program Coordinator) has informed that during the period of five months only, HRDP has provided 13 teachers in village schools and libraries have been established in 14 schools. Each school library has books worth Rs. 50,000 and Remedial Coaching Centers have been started in 13 villages.  These RCCs support 434 weak & poor students to pay more attention upon Maths, English and Science. 14 schools' management committees have been regularized, schools get decoration with colorful pictures and teachers are updated with Child-friendly school concept as well as RTE. 240 school children were motivated to form Bal Sansad and 3321 children were made aware of hand washing practice with importance of sanitation. This works towards availability of safe drinking water by repair of defunct hand pumps or installation of new ones as per the need and supports for construction of 1000 toilets under swachch Bharat Mission.
HRDP has ensured installation of 108 Solar Street Light in 15 villages for promotion of green energy and natural resource management. Also this facilitated 50 SHGs with 500 women to get institutional credit in future. Repair and construction points for irrigation facilities have been identified and farmers are being trained in advance cultivation. There is a health awareness campaign in villages and two eye checkup camps were held at Koderma (30 Jan) and Jainagar (22 Feb) that catered 295 patients from 15 villages and identified 52 cataract patients got surgery at LNJP eye hospital, Bahera (Chouparan), as Mr. Rounak Rituraj (Office Manager) has supplemented.