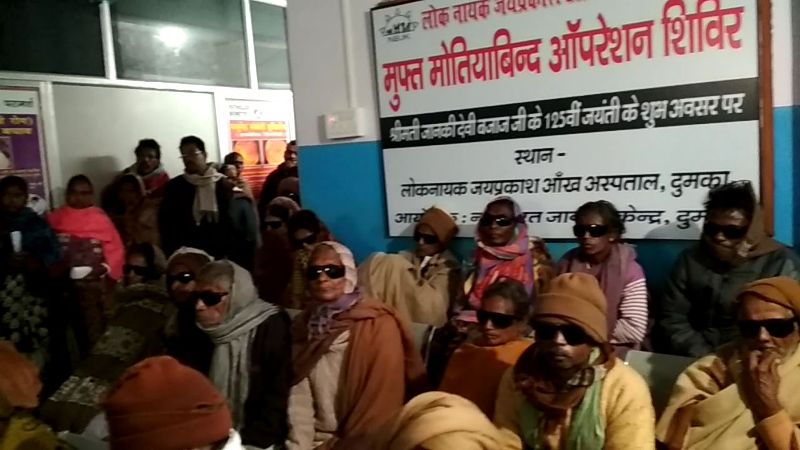 07 January 2018, Dumka: 125th birth anniversary of late Mrs. Janki Devi Bajaj was celebrated with community eye care service by LokNayak JayPrakash Eye hospital. Padma Vibhushana Mrs. Bajaj was wife of Late Mr. Jamnalal Bajaj, a close associate of Mahatma Gandhi and herself worked with Sant Vinoba on Bhoodan movement.
On this pious occasion, LNJPEH has organized Eye screening camp at village-Bada Dumariya under Masalia block of Dumka district. A day before, the hospital team has started publicity campaign in the area, announced for eye camp and made people aware about the event. The screening camp was inaugurated by local Mukhiya and 47 people (21 females, 26 males) went under eye check up by the doctors. There were 30 people ((12 females, 18 males) identified with cataract. On 8th, all these have met eye surgery at the hospital to remove cataract. On 9th January, a simple closing ceremony was organized at LNJPEH with invitees like Mr. Abhijit Kashyap (Branch Manager-Bajaj Finance, Dumka), Mr. Deepak Kumar (Asst. Branch Manager-Bajaj Finance, Dumka) and Mr. Mukesh Kumar (Bajaj Automobiles, Dumka).
On behalf of NBJK, Mr. Anand Abhinav (Programme Director) greeted the guests and briefed about  the life of late Janki Devi Bajaj. She will be remembered time and again due to her spirit of social activism and simplicity, Mr. Abhinav remarked. Mr. Abhijit Kashyap appreciated NBJK and LNJPEH for community eye care, a major step towards healthy society. Both of them have distributed medicine and spectacle kitbags  among cataract operated patients. Mr. Samir Kumar Bera (Branch Manager, NBJK-Dumka) has delivered vote of thanks and Mr. Sudarshan Pandey (Senior Staff-NBJK, Dumka) anchored the dais. Dr. Mohan Lal (Ophthalmologist), Mr. Aniban Panda, Mr. Himanshu Kumar and Mr. Sita Ram Yadav were present during the celebration.