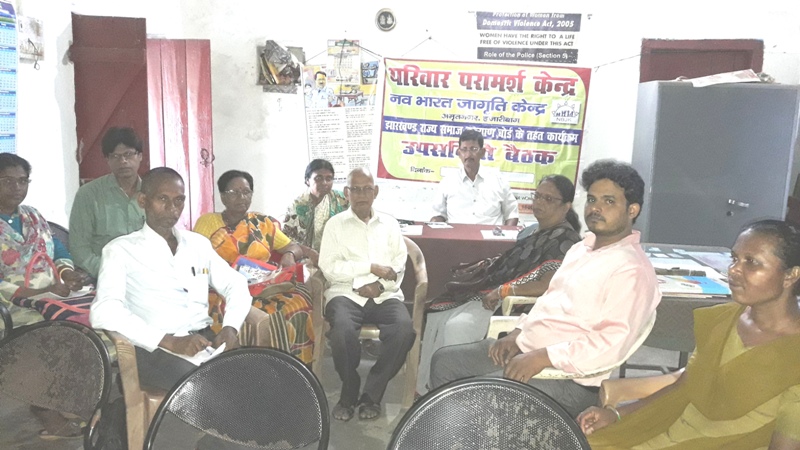 13 October 2017, Hazaribag: Sub-committee members of Family Counselling Centre (FCC) were present in the meeting held at Women Police Station premises to discuss about quarterly performance of FCC run by NBJK with support of Jharkhand State Social Welfare Board and Central Social Welfare Board, Delhi.
The meeting was chaired by Mrs. Ameltina Ekka (In-charge, Women PS) and members have suggested that FCC should get help of Panchayti Raj members and local Mukhiya to settle cases. Ms. Veena Sethi (Advocate) has advised to involve members of women SHGs to support the victims of domestic violence. We must keep the parents in confidence if dealing with the cases of love marriage, she opined during the meeting.
Mrs. Meera Gupta (Senior Counsellor) has tabled the work report of FCC from 01 August-12 October 2017 and reported about 34 cases registered during the period. Out of these, 12 were related to Alcoholism, 11 to marital dispute, 7 to bigamy, 2 to land dispute, 1 to adolescent love affair and 1 to monetary fraud, she explained with documentary proof. We could reconcile total 17 cases and Women Police Station has extended all its support to get them resolved, she told. Other members of FCC Sub-committee like Mr. Rajiv Ranjan (Circle Police Inspector), Mrs. Susheela, Shiv Kumari Sony, Sister Anny Thomas, Mrs. Usha Bahen, Mr. Tulsi Dubey, Mr. Arvind Jha, Mr. Chandan Kumar, Mrs. Saraswati Soren and Mr. Sanjay Kumar (Counsellor) have contributed the meeting.