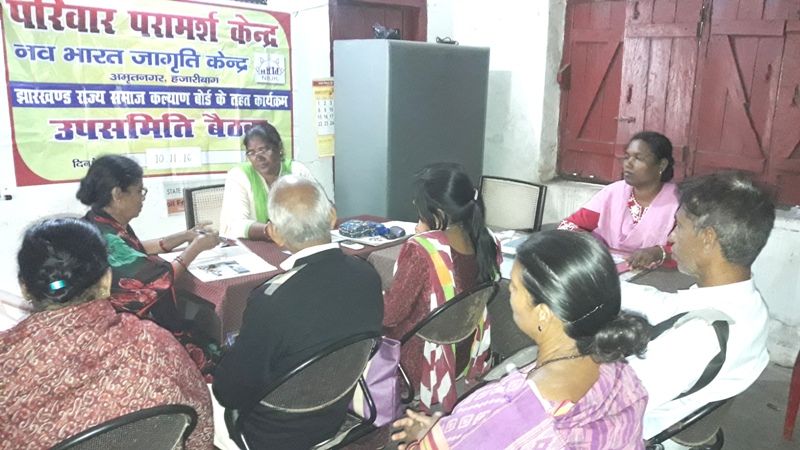 10 November, Hazaribag: NBJK run Family Counseling Center has called it's Sub-Committee members in the meeting held at Women's Police Station, Hazaribag. This was chaired by Mrs. Ameltina Ekka (Officer In-Charge) and attended by Mrs. Sharmila Hansda (ASI) Mr. Tulsi Dubey, Mr. Arvind Jha, Mrs. Usha Devi, Mrs. Sharda Devi, Mrs. Jubli (All Members) and Mr. Sanjay Kumar (Counselor). Mrs. Meera Gupta (Senior Counselor) has informed the members about number and nature of cases, FCC has received during the period of August-October 2016.
There are 30 cases registered in the quarter as for Marital Disputes between Couples (11), Interference by In-Laws (05), Alcoholism (05), Property (01), Extra-marital (05), Dowry (01) and Domestic Violence (02). She has presented a brief report upon the activities and actions taken regarding amicable solution for such cases and said that 13 cases have been solved with initiatives taken by the FCC. Most of the Sub-committee members have suggested for promoting mutual understanding to safeguard delicate relationship and to strengthen family bond towards an inclusive society.
Mrs. Ameltina Ekka (OIC) has appreciated FCC for its timely intervention as well as social outlook to address domestic problems around women and children. Mrs. Meera Gupta (Counselor) has thanked Sub-committee members and Central/Jharkhand State Social Welfare Boards for supporting FCC in Hazaribag.