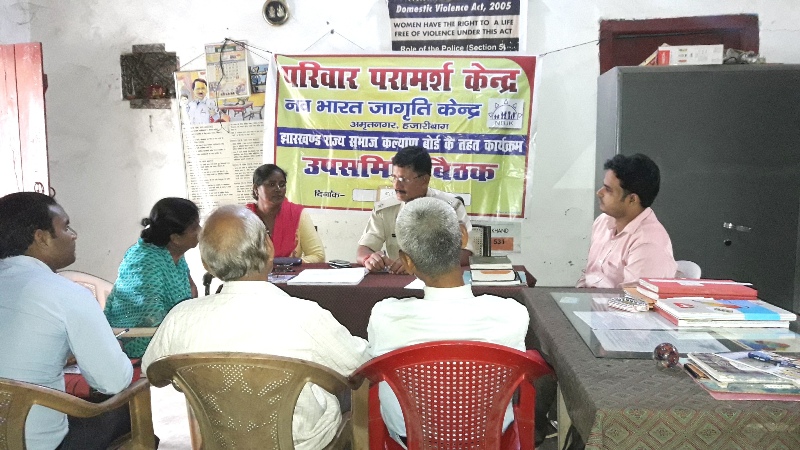 21 July 2017, Hazaribag: Central Social Welfare Board, New Delhi and Jharkhand State Social Welfare Board, Ranchi supported Family Counseling Center (FCC) by NBJK has organized it's Sub-Committee meeting at the premises of Women Police Station, Hazaribag. The meeting was chaired by Mr. Rajiv Ranjan Kumar (Circle Inspector of Police).
The Sub-Committee members have suggested for proper investigation of the cases at FCC, their reconciliation in presence of police officer-advocate and process documentation with needed signatures to reach a judicious end for any family dispute. Mr. Rajiv Ranjan Kumar has offered for continuous support by Women PS to FCC if needed for any difficult case. Mrs. Meera Gupta (Senior Counselor, FCC) has presented the quarterly status report of FCC for May-July 2017 before the members.
She said that total 31 cases have been registered at FCC during the period and 11 of those were settled with our effort. These cases are of different natures like extra-marital relation & polygyny (4), In-laws dispute (3), dowry (1), land dispute (1), alcoholism (8), property encroachment (1), marital dispute (7), neighborhood dispute (2) and others (4), Mrs. Gupta has explained.
The meeting was participated by Mrs. Emeltina Ekka (In-Charge, Women PS), Mrs. Swarnlata Kujur (Sadar PS), Mr. Tulsi Dubey, Mr. Arvind Jha (Advoctes), Mr. Chandan Kumar, Mr. Sachin Paswan, Mrs. Meenu Hansda (Social Workers) and Mr. Sanjay Kumar (Counselor, FCC).