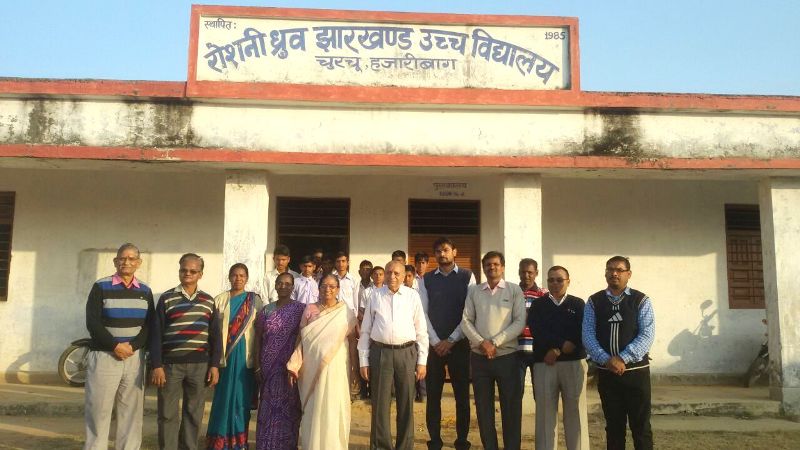 26 November 2016, Churchu (Hazaribag): Mr. Prakashbhai Shah and his wife Mrs. Surekha Ben have arrived at Roshni Dhruva High School, Churchu. The couple has motivated and supported NBJK to start Roshni Dhruva High School at Churchu and still provides their support to strengthen the school.
They were accompanied by Mr. Satish Girija (Secretary, NBJK) and Mr. Gandharv Gaurav (Program Director) in the event organized to welcome them by school management and students. On this occasion, Mr. Prakash Bhai has encouraged the school children to study well and assured for help. Mrs. Surekha Ben has praised the initiative of Roshni Dhruva High School by NBJK in a farflung area like Churchu that ensures an educated future for coming generation.
Mr. Satish Girija has expressed sincere gratitude towards the couple and said about NBJK's commitment to develop Churchu by programs on education, health and livelihood. He appealed children, teachers and parents to to prefer education as a priority. Mr. Prakash Bhai and Mrs. Surekha Ben have visited under construction room, computer room, smart class etc. at the school and were satisfied to see the progress.
Mr. Dineshwar Singh (Principal, RDHS) has presented Annual Report before the visitors and informed that 95 students have appeared for 10th class board examination and 68 (first div. 12, second div. 40, third div. 16) have passed while ensured 150 new enrollments for class 6 – 9. He has raised school related topics like boundary wall and affiliation with Jharkhand Academic Council. The meeting was concluded after vote of thanks by the principal.