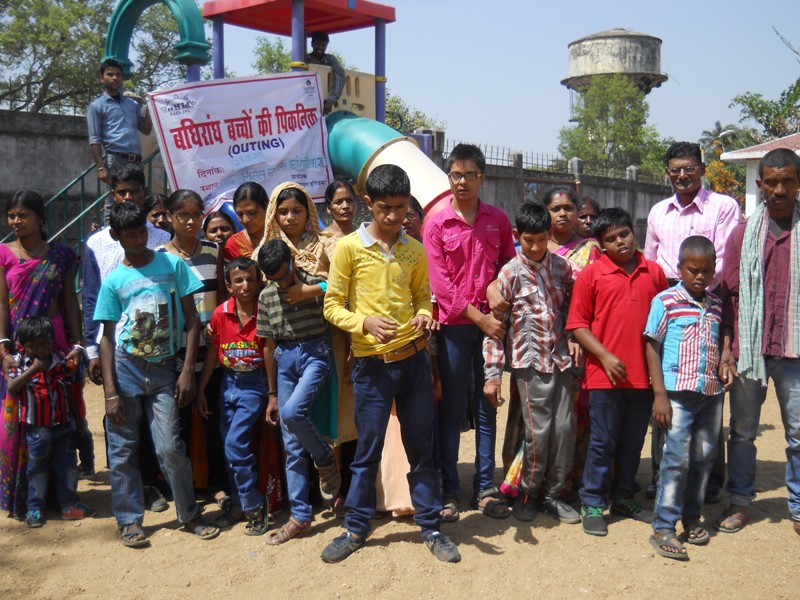 23 March, 2017, Ramgadh:  Deafblind and MSI (Multi-Sensory Impaired) children and their Caretakers from Ramgadh district have enjoyed an outing at Shaheed Nirmal Mahto Park in Hazaribag. These are benficiaries of Sense India supported programme of Services to Desfblind and MSI Children by NBJK.
Mr. Abhay Kumar (District Programme Coordinator) has said that such children face loneliness and lack proper socialization. Their family members feel inhibition to visit social functions with them due to adaptation problem of such children but this hitch can be managed with providing them opportuity only and we use to organize outings for these children, he added.
All 13 deafblind & MSI children were happy and they have enjoyed with the surroundings inside the park. Their parents and caretakers met each other, came to know about other's problem and spent  quality time with their children.  The guardians present on this occasion were Mrs. Sunita Devi, Mrs. Usha Devi, Mrs. Seema Devi, Mrs. Gudiya Devi, Mr. Yugeshwar Ram, Mrs. Kalawati Devi, Mrs. Ganga Nayak, Mrs. Rizwana Nahid, Mr. Bablu Bediya, Mr. Ghulam Waris, Mrs. Soni Devi, Mrs. Fulo Devi, Mrs. Nagina Devi, Mrs. Swapna Devi, Mrs. Mano Devi, Mrs. Asha Devi, Mr. Pradeep Rajwar, mr. Shahabuddin, Mrs. Maanjo Devi and Mrs. Tultul Banerjee.
These people belong to Ramgadh and nearby places like  Ghutua, Chhotki Lari, Belwagarha, Bharech Nagar, Patratu Basti, Siyur, Koiri Tola, Sewaiyagarha, Lohartola, Bijuliya etc. The event was organized by programme team members like Mr. Mukesh Kumar (Special Educator), Mr. Kapildev Kumar and Ms. Sujata Singh (CBR Workers) under supervision of Mr. Abhay Kumar (District Programme Coordinator).