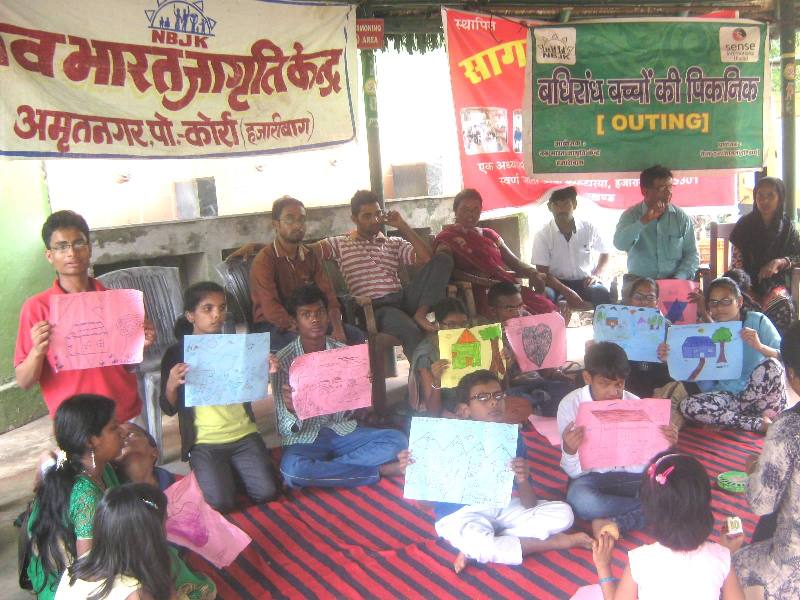 16 September 2017, Hazaribag: A picnic for deafblind & multi-sensory impaired children was organized at Swarn Jayanti Park under the program of SPARSH Services for Persons/Children with Deafblindness (DB) & Multi-Sensory Impairment (MSI) with support of Sense India, Ahmedabad. There were 50 children, parents & program staffs present in the excursion and they have enjoyed the event with a number of activities like painting, blind-hidden/needle-thread/ slide-swing games, sign language competition etc.
There was an informal meeting with the parents and Md. Nayeem (Asst. Program Coordinator) has briefed them about objective of the outing as an exposure to DB/MSI children. He insisted for their involvement in the home/center based services their wards avail as parents can motivate such children more easily. Also he suggested for orientation & mobility, activities of daily life, physiotherapy, Braille, sign language, school enrollment etc. to such children and assured for program support. He appealed the parents to find out other DB/MSI children in their localities so that they too can get specialized services under the program. Currently there are 111 beneficiaries under the program reached to 78 villages/mohallas in 9 blocks of Hazaribag, Ramgarh and Ranchi districts.
During the picnic, also Mr. Paras Nath Mahto (Special Educator), Mrs. Indu Gupta and Ms Rashmi Parveen (both CBR workers) have provided proper guidance to parents & children. There was a feast attended by all and children-parents were dropped to their places at last.